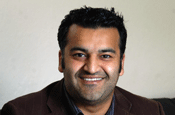 Naqvi, who joins from Goodby, Silverstein & Partners, where he was an executive producer, will work alongside Stephanie Wellesley, whose head of TV role has been changed to head of content.

Williams said, ""I always knew I wasn't going to find the bloke I wanted in some fin de siècle London shop. Syed is world-class talent. He and Steph will create something truly special."

Naqvi joins Grey after ten years in the US with Goodbys. He has also worked at Saatchi & Saatchi North America and McCann Erickson.

He said: "Grey London is not holding back. I look forward to peeling back the layers and driving some exciting new work."