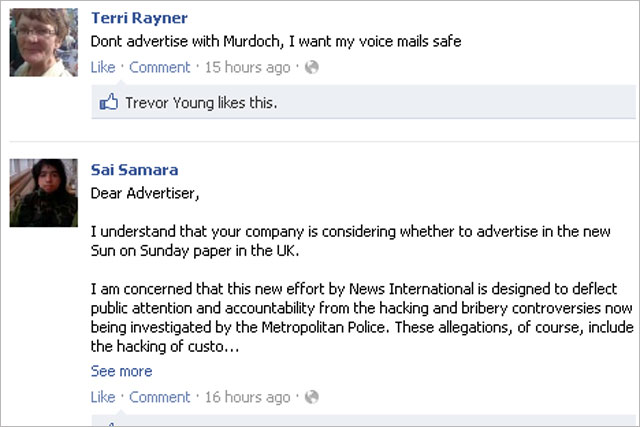 Avaaz, the campaigning group, launched a campaign last night (23 February), directing people to comment on the Facebook pages of the three mobile operators and, by this morning, hundreds of comments had been posted on their walls.

News International confirmed at the weekend that it was planning to launch a Sunday edition of The Sun this Sunday (26 February) and has been promoting the paper through an ad campaign since Tuesday.

On T-Mobile's Facebook site people are commenting straight onto the T-Mobile Facebook wall, but on the Vodafone and O2 sites, they are commenting on the operators' own posts.
A Vodafone thread has more than 500 comments and the O2 post has more than 1,000.
Last year, opposition to the handling of the phone-hacking scandal in the UK contributed to News International's parent group News Corporation pulling out of its bid to control BSkyB and closing the Sunday tabloid, the News of the World.
In an email to its online community, Avaaz said: "Mobile providers O2, Vodaphone [sic] and Everything Everywhere are still considering advertising in the paper – even though nearly 200 of their customers were victims of Murdoch's phone hacking.
"Let's tell these companies what's at stake – click here to send them a clear message and force them to back out of their hacking support."
The comments on the Facebook sites ask T-Mobile, O2 and Vodafone to pull their advertising from The Sun and News International titles, with some of them threatening to cancel their contracts.
Charlie Cornelius said in his comment, "i [sic] have been a vodafone customer for 20 years and would be disgusted if vodafone continued to sponsor murdoch press."
Yesterday, Rupert Murdoch, chief executive and chairman of News Corporation, confirmed on Twitter that the Sunday paper would cost 50p and then said: "More good Sun news. We're completely sold out for advertising."
Follow Maisie McCabe on Twitter @MaisieMcCabe