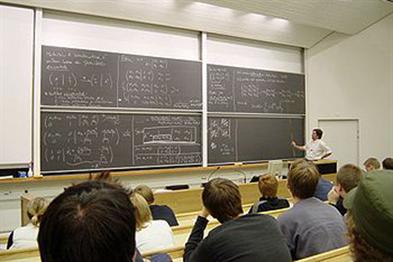 In recent weeks Britain's motorways have been packed with cars filled to the brim with duvets and kitchenware as young Brits migrate across the country to their university homes.
With the rise in tuition fees planned for 2012, this year saw record numbers of university applications, meaning universities are heaving with freshers who are largely independent and making a whole host of spending and saving decisions for the first time.
This is a key time for marketers to target these new students and generate long-term brand loyalty.
The latest insight from Kantar Media's TGI survey shows 1.7 million adults aged 18+ are currently in full time education in Britain.
Getting the branding right is key to appealing to this enormous market.
As a group, they are desperate to ensure they project the right image with their labels.
TGI shows that students are significantly more likely than the average adult to enjoy going out to trendy places, wear designer clothes and buy the latest gadgets.
When choosing a mobile network, for instance, students are over twice as likely as the average British adult to claim brand image is the most important factor influencing their choice.
Similarly, when buying a computer they are 82% more likely to claim brand image as the most important factor.
However, marketers should be conscious when wooing students that while they want their brands to be cool they also want them to be green; students are 51% more likely to pay more for environmentally friendly products than the average adult
The beginning of the first year is a time when banks in particular intensively target students, knowing that many will need to open new accounts and apply for bank cards.
The financial brands students choose at this point they often stay loyal to long term.
TGI data reveals that students are over four times as likely as the average British adult to have held their main current account for just six months to a year.
In addition, 66% of students choose their main current account themselves.
Insight from TGI also reveals that the internet stands out as one of the most efficient means for reaching students.
They are over two and a half times as likely as the average British adult to be among the heaviest fifth of consumers of the internet.
Similarly, students are well over twice as likely to be among the heaviest fifth of consumers of cinema, with favourite genres being teenage comedy and art house films.
Direct mail also has the potential for real impact, with students 67% more likely than the average adult to say that relevant direct mail can change their opinion of a company or a brand.
Students have always been a key target for many marketers but with more school leavers than ever competing for places at university to beat the fee increases, the opportunities in student targeting have never been better.
Many will have control of their own money for the first time and are ripe for turning into long term loyal customers who are particularly likely to have strong spending power in the years ahead.
Alice Dunn, marketing executive, Kantar Media