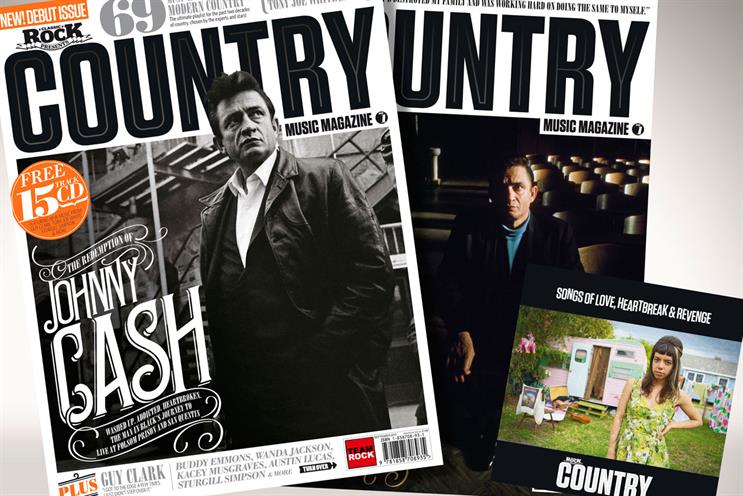 The quarterly magazine and accompanying radio show will cover country music and aim to expose music fans to the genre, which TeamRock says is "ignored" in commercial radio.
The magazine will be sold on the newsstand with an initial print run of 25,000. It is being edited by Ed Mitchell, editor of The Blues magazine, sister title to Classic Rock magazine which TeamRock bought from Future in April.
A two-hour weekly radio show is also being launched on Sunday on TeamRock's Digital One radio station, which carries no spot ads. The show will reflect the content of the magazine, TeamRock said.
Moose Evans, head of radio at TeamRock, said country music was "a massive beast that is generally ignored by UK commercial radio."
He added: "TeamRock Radio's goal is to represent all genres of rock and country music. We hope the magazine and radio show will expose the genre to those who are really country fans but don't yet know it, as well as providing a platform to the already converted."
Ed Mitchell, editor of Country Music Magazine, said it would "document Americana and roots music at its coolest, as well as exploring the lives and work of icons like Johnny Cash, Dolly Parton and Hank Williams; cult heroes like Guy Clark, The Derailers and Tony Joe White; and the cream of contemporary talent like Sturgill Simpson, Kacey Musgraves and Carrie Rodriguez."
"If it twangs, whines or breaks your heart, it'll be in the pages of Country Music Magazine," he continued.
TeamRock was formed last year by former GMG Radio execs John Myers and Billy Anderson, who bought Metal Hammer and Classic Rock magazines along with their brand extensions, from Future for £10.2 million in April. They subsequently launched the radio station.
John Myers, TeamRock's chairman, explained its no-ads policy to Campaign magazine earlier in the year, saying: "If you're a niche brand with a small audience, the money you get for spot ads is so small that it's best not to have it at all."
Follow @LouiseRidley