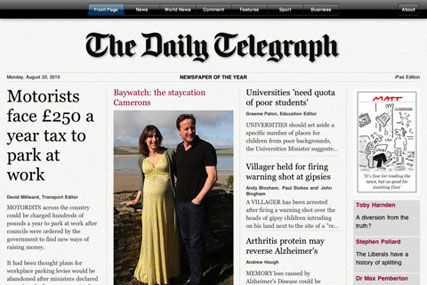 The app allows users to download Telegraph content, including national and world news, sport, finance, comment and features, from 5am, seven days a week.
Edward Roussel, digital editor of TMG, said: "This development demonstrates TMG's dedication to making its content accessible to the widest possible audience on all key platforms."
The 12-week Audi sponsorship was planned and bought by WPP media agency MediaCom. Creative was by Bartle Bogle Hegarty.
Eve Tyers, national communications manager of Audi UK, said: "Audi is world renowned for its focus on technological progress – Vorsprung durch Technik – and our association with The Telegraph's exciting new iPad app enables us to appropriately engage with a wider readership across the most modern of platforms."
A spokeswoman for the Telegraph said it was not currently working on an app for any other type of tablet, but further announcements would be made in due course.
Matt Cory, creative planning director of Create at TMG, said: "We hope the launch of the iPad app will give a new audience and our existing readers the opportunity to sample the Telegraph in a dynamic way.
"With Audi UK supporting us as a launch sponsor, we are delighted to be able to offer the first version of the application to iPad owners, free of charge."
TMG is also working with The New York Times on a new iPhone app, and an enhanced version of the iPad app, which will launch in the coming months.
The application has been developed in partnership with digital services company TigerSpike.
As was first revealed in June, TMG re-launched its fashion portal, Fashion.Telegraph.co.uk earlier this month. The portal incorporates social media functions and allows readers to click through and buy items.