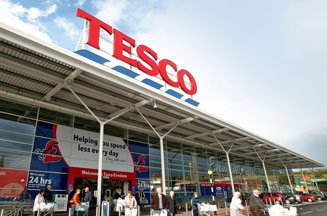 When the loyalty-card scheme was re-launched in May, as part of a £150m investment, the 'double up' offer was limited to categories including clothing (in-store only), cosmetics, skincare and fragrance (in-store only) and wine and champagne (purchase either in-store or on its wine website).
The change is what was hinted at in a teaser campaign that appeared earlier this week in an outdoor advertising campaign: 'Clubcard 2 - coming to a store near your soon.'
From Monday, Tesco Clubcard holders will receive double Clubcard points - two points for every £1 they spend across the store and online.
Tesco said that the changes would be put in place on Monday in order to make the activity 'simpler' for its customers.
In the three months since May more than 1.5 million customers doubled up their vouchers with the most popular categories being clothing and wine.
Tesco said that when stores close this coming afternoon stores would be prepared for the launch and a nationwide marketing campaign will also begin including new television and print adverts.