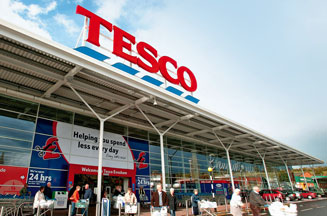 Clubcard Double Points launched in August - giving customers twopoints for every £1 they spend on anything in store or online.
Tesco claims that more people in the UK now have a Tesco Clubcard loyalty card than own a Barclaycard, the nation's biggest credit card.
Tesco now has 16 million active Clubcard holders in the UK, compared to 11.7 million people who have a Barclaycard.
Tesco has recently launched Clubcard in Poland, Thailand and Slovakia and internationally has added three million card-holders in seven weeks. There are more than 12.5m active Clubcard holders abroad.
Carolyn Bradley, Tesco's UK Marketing Director, said: 'It is more important than ever to say 'thank you' to our customers for their loyalty. With Double Points Tesco is giving rewards twice as fast - customers can make an even bigger saving on their Christmas shopping this year and they'll continue to earn double points on it too.'
There are nine million variations of the Clubcard statement to ensure that customers get extra rewards that are relevant to them. No three customers get the same statement.