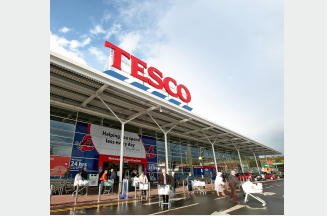 The supermarket said the decision was taken because the equipment was 'outdated and energy inefficient'. However, the service is not thought to have been generating a significant profit for the company.
Ivan Clark, director of digital and creative solutions at Kinetic, said: 'When it launched Tesco said it would attract 5% of TV ad revenues but this hasn't been the case.'
When the platform, formerly known as Tesco TV, launched sales were handled by JCDecaux. It was designed to run a combination of relevant TV content and third-party ads on plasma screens hanging from store ceilings in aisles.
Last year, the sales business moved to Dunnhumby Retail Media, which is part-owned by Tesco. After a change in strategy, sound was muted on the screens and there was a stronger push towards self-promotion with an increase in the number of Tesco's own ads running in stores. Tesco said it is now developing 'modern and energy-efficient alternative communication solutions' throughout its 2000 UK stores.