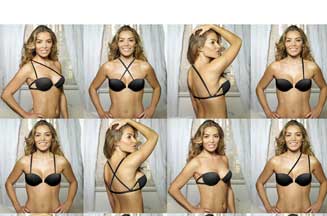 The bra comes in several parts, including two cups and a selection of straps allowing the wearer maximum flexibility. Each cup has 24 hook positions and the back strap a further 28 hooks.
The supermarket claims it is the 'most innovative lingerie invention ever to be introduced to stores throughout the UK'. The bra was created by Michelle Mone. Jan Marchant, buying director at Tesco Clothing, says the supermarket expects the bra to be a must-have for the Christmas party season.
The launch comes in the traditionally busy Christmas period. According to John Lewis in the six weeks before Christmas the weekly spend on lingerie and women's nightwear increases by more than 70%.
Unfortunately a large proportion of these purchases will find their way back to the stores, or languish forgotten in drawers due to the fact they are the wrong size, or simply disgusting.
The Limitless Bra will retail at £16.00 and will be available in sizes 32-38 A-D in black and nude.