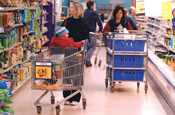 The supermarket is working with Fizzback, a customer engagement specialist, to enable its customers to feedback in-store, or by SMS, email or freephone. All channels are free of charge and the system instantly analyses feedback and sends messages to a customer service team or store managers.
The service will be reviewed at the end of November at which point it could be rolled out in additional Tesco stores. Fizzback is also working with Phones 4U to improve its customer services.
Asda initiated a similar scheme last August in 20 stores across West Scotland. A short phone and online survey was advertised on the back of its receipts, which asked shoppers about its customer service and product availability. Customers were also able to nominate staff for the quality of their service.