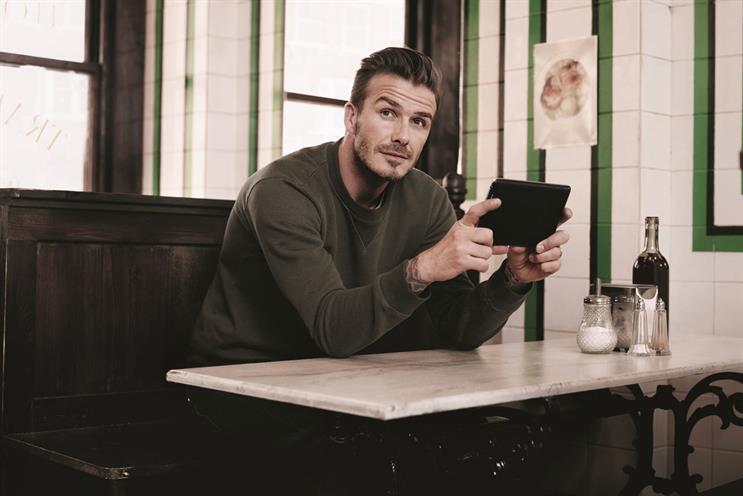 Beckham fronting Sky ads
The battle between BSkyB and BT's new sports channels is hotting up, with Sky Sports turning to David Beckham to front its multimedia ad campaign (pictured). Developed by Brothers and Sisters and Inferno, with media through MediaCom, the activity precedes next month's launch of BT Sport, which has set aside £100 million for marketing.
Desmond getting feisty
We can't help but smile at the arrival of Northern & Shell's larger than life leader, Richard Desmond, on Twitter. The former Asian Babes owner turned proprietor of Express Newspapers, Channel 5 and OK! is not known for his subtley. True to form his second tweet was a dig against Rupet Murdoch and News UK's "cost-saving" move to the Baby Shard. Earlier this year, Desmond is believed to have been involved in an expletive-laden bust up with Apprentice star Lord Sugar, which ended with Desmond shouting "You're fired!" An N&S spokesperson confirmed @RichardDesmond is, indeed, him, before adding "OMG!".
MG OMD becoming a brewer
Manning Gottlieb OMD is following in the footsteps of Gravity Road and Leith by launching its own beer next week. Described as a golden pale ale, with 4.2 per cent alcohol content, the not-for-profit beer is being introduced in the Devonshire Arms in London's Marylebone and is part of the agency's attempts to support young entrepreneurs across the country. No excuses, then, for the agency not getting the next few rounds in.
And one thing we don't...
Confusion at Microsoft
Microsoft's latest restructure seems to have caught most of the UK leadership team by surprise. When the chief executive, Steve Ballmer, announced a "one strategy, one Microsoft" reorganisation to enable the company to "innovate with greater speed, efficiency and capability", senior executives admitted to Campaign that the first they heard about it was via a US website. The rejig, around services, not products, has been fairly well-received internally, but UK bosses are said to be checking the web for further developments.