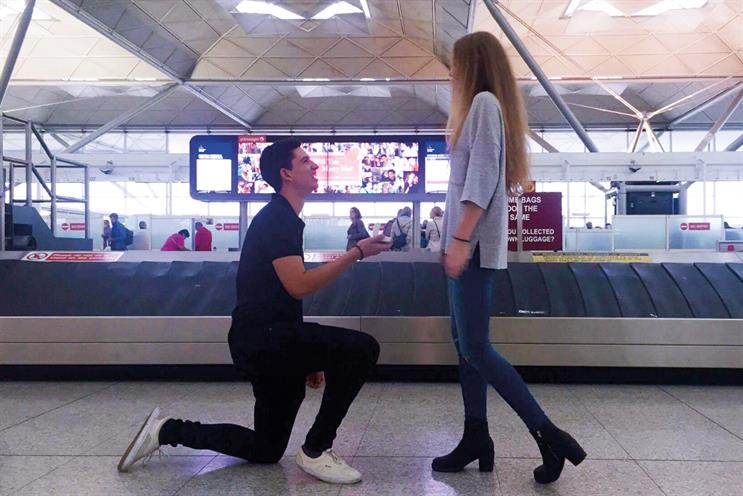 Time Out taking over Shoreditch
Time Out is bringing its brand to life and diversifying its revenues with plans for a Time Out Market in London's Shoreditch.
The idea is that the market will celebrate "the vibe" of the city, bringing together 17 restaurants, four bars, an art gallery and a cooking academy in the 450-seat, 19,250 square-feet space.
Time Out Group, which is now listed on the London Stock Exchange, will manage the bars and rent out some of the other facilities.
It follows the launch of the first Time Out Market in Lisbon, Portugal in 2014, which doubled visitors in the first half of 2016 and has been profitable.
Primesight's marriage proposal
Some people say it with flowers, others with out-of-home advertising. Hamdi Rahmeh, a student at London's Imperial College, proposed to his girlfriend, Anna, using a billboard at Stansted Airport after he contacted media owner Primesight.
When the couple flew in from Budapest, where Anna lives, a message on the poster site in the baggage hall asked: "Anna, will you marry me?" And she said yes.
Matt Teeman, Primesight's new sales director, is evidently an old softie because his team gave away the media space for free.
...And one thing we don't...
Concerns over Sky subscribers
Sky's decision to stop disclosing its TV subscriber numbers in the UK and Ireland in last week's quarterly results is understandable given the competitive nature of the pay-TV market, but its reticence is fuelling doubts.
City analysts think Sky may be losing TV customers who are trading down to cheaper Now TV or quitting entirely for Netflix or other over-the-top providers.
This could also affect Sky Media's TV ad revenues, which dropped 3%. Sky still managed 5% group revenue growth in the UK as transactional revenues such as download-to-own boxsets jumped.