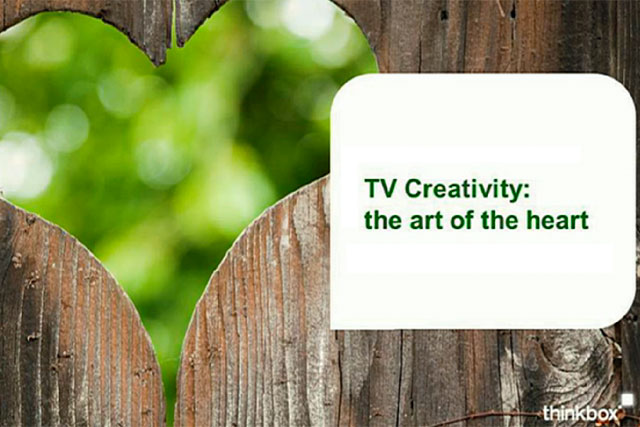 Follow this event on Twitter with #TVcreativity
9.30 – 9.40 Why does creativity matter?
Lindsey Clay, Managing Director from Thinkbox will outline the link between TV advertising creativity and effectiveness.
9.40 – 10.15 What does great look like?
Paul Brazier, Executive Creative Director from AMV BBDO, Jason Lawes, Creative Director and Founder of The Red Brick Road and John Townshend, Creative Partner from Now will be talking to Lindsey Clay about what separates the truly great from the merely good.
10.15 – 10.35 Numberwang
Tess Alps, Executive Chairman from Thinkbox will be sharing some of the key media numbers that every creative should know.
10.35 – 11.05 Briefing great TV: the planners' perspective
David Golding, Founding Partner and Chief Strategy Officer adam&eveDDB and Andy Nairn, ex-Chief Strategic Officer at MCBD & Dare, who share the unique distinction of winning IPA Effectiveness and British Arrows Grand Prixs for single campaigns, will talk about how to brief award winning TV.
11.05 – 11.35 Break for those at the event/ half time show for our online viewers
Hear our leading Thinkbox Academy Members pick their 3 favourite ads and explain why they have been inspired by them.
11.35 – 12.00 The new creative canvas
Lindsey Clay will show how the ever- evolving technology landscape creates new TV creative opportunities.
12.00 to 1pm The right direction
We'll hear from a panel of some of the UK's best TV advertising directors, chaired by Lizie Gower, Managing Director Academy films and Chairman of the British Arrows, including Seb Edwards from Academy Films, Sam Brown from Rogue Films, Simon Ratigan, HLA, about how they go about making the TV ads that grip the nation.
1pm Event close/ End of live stream