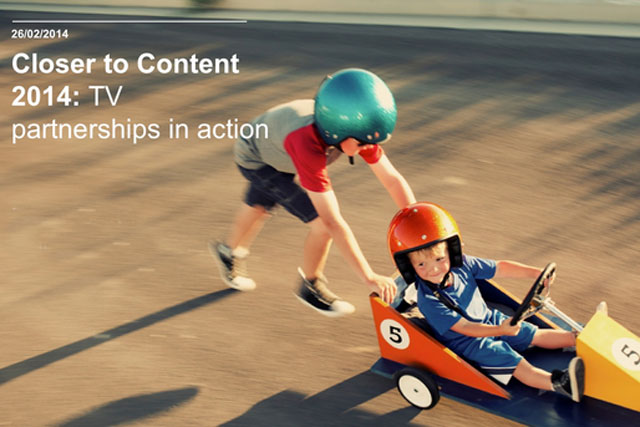 From big integrated, deep, multi-layered, multi-platform partnerships that include everything from sponsorship, branded content, product placement, events and licensing; to smaller, creative, hard-working examples that punch above their weight.
Speakers include: Jat Sahota, head of pharmacy and healthcare at Sainsbury's; Rob Ramsey, partnership leader from Channel 4; Kuba Wieczorek, business director at 4 Creative; Jason Hughes, head of branded content and product placement from Sky Media and Chantal Rickards, head of programming and branded content from MEC EMEA.
They'll show what's possible in the connected World of 2014 and share some advice as to how they best work. We've come a long way since the first break bumper.
Thinkbox will also be casting a spotlight on "brand integration" with a roll-call of all of the product placements we've seen on UK commercial TV to date.
Agenda
9.30 – 9.40 Introduction 'Closer to Content 2014'
Lindsey Clay, Thinkbox's Chief Executive, will take us through the morning's line-up.
9.40 – 10.10 The possibilities of content partnerships
Zoe Fuller, Head of Industry Programmes at Thinkbox, will bring us up to date with some of the latest and greatest examples of brands associating with programmes: from fully integrated sponsorships and branded content initiatives to contextual advertising and licensing.
10.10 – 10.40 How to take creative effectiveness to the next level. Simples!
A fun and revealing session in the company of the meerkats of Meerkovo and Gary Knight, Commercial Content Director from ITV. What can brands and agencies can learn from this higher than high-profile content partnership between ITV and Comparethemarket.com? You may know how well this campaign did, and what awards it won, but how did they put it all together and what can we do with that knowledge?
10.40 – 10.45 What's coming up?
Lindsey will let us know what to look forward to in part two.
10.45 – 11.15 Break
11.15 – 11.45 The blind leading the partially sighted: Sainsbury's and the Paralympics
Jat Sahota, Head of Pharmacy & Healthcare at Sainsbury's; Rob Ramsey, Partnership Leader from Channel 4; and Kuba Wieczorek, Business Director at 4 Creative invite us to peer inside the workings of their award-winning campaign. How did they go about it, from pitch to podium, and what lessons can be applied to other partnerships? All will be revealed …
11.45 – 12.05 1 programme, multiple opportunities: A League of Their Own
Jason Hughes, Head of Brand Content & Product Placement from Sky Media, and Chantal Rickards, Head of Programming and Branded Content from MEC, will reveal how a long running programme can create multiple, strong partnerships and explore the link between product placement and sponsorship.
12.05 – 12.25 The possibilities of product placement
Leila Travis, Head of Planning at Thinkbox, will give us a run-down on how product placement is being used in a variety of ways on TV, and share the latest examples.
12.25 – 12.55 What research tells us about product placement
From field to results, in this session, Neil Mortensen, Research & Planning Director at Thinkbox, has pulled together a wealth of research studies that tell us how product placement works and how effective it is.
12.55 – 1pm Event close
Lindsey Clay will wrap up the morning.