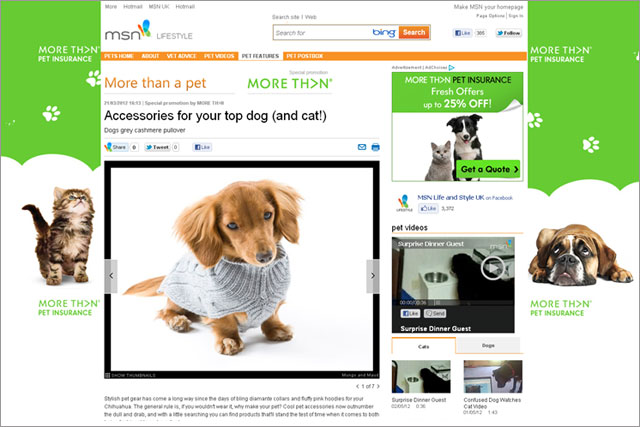 From tomorrow (9 May) a dedicated section of the site will include a range of articles and information about looking after animals, including advice from veterinary professionals, features on pet lifestyle, pet fashions and celebrity pets.
The sponsorship, which was negotiated by Publicis Groupe media agency MediaVest UK, is designed to expand awareness of More Th>n's pet insurance and highlight the provider's expertise.
Pet owners will also be encouraged to interact with the site by uploading images and taking part in regular online polls.
Dominic Grounsell, personal marketing director at More Th>n, said: "The creation of a More Th>n pet channel has been designed to deepen relationships with our customers by providing practical pet advice, features, photos and videos to complement our pet insurance offering.
"As a nation of pet lovers the channel taps into our emotional connection with pets and shows how as a brand we go further for our customers."
The pet section of MSN's portal will sit within the Lifestyle section of the site and will have More Th>n branding on either site of the editorial as well as on an MPU ad format on the left-hand side.
Duff Borer, business director at MediaVest, said: "This innovative and exciting initiative brings the More Th>n proposition to life in a practical way with its target audience.
"The partnership further emphasises our social, media and digital thinking as we continue our commitment to the design of dynamic experiences connecting consumers to brands."
Follow Maisie McCabe on Twitter @MaisieMcCabe