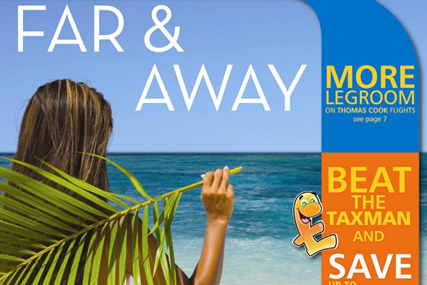 The campaign was created in house and will feature across the travel group's new brochures, supported by in-store activity.
It claims that Thomas Cook can save its customers £75 each on long-haul flights booked with the company between now and 16 December.
APD, which is levied on outbound flights from the UK, will increase by 50% next Monday (1 November) on long-haul flights to destinations such as the Caribbean, Kenya, India and Mexico.
Thomas Cook reported that the hike in APD will see its economy cabin tax rise from £50 to £75 per passenger on flights to these destinations.
Premium cabin tax will increase from £100 to £150 on the same routes.
Thomas Cook Airlines has announced that, as a direct result of new APD tax, it will be ceasing its premium seat option on outbound long-haul flights, as of May 2011.
The airline will continue to offer the premium seats on inbound long-haul flights, costing £50 extra per person.
Manny Fontenla-Novoa, group CEO at Thomas Cook, said: "It's ridiculous to think that holidaymakers travelling in premium seats on one of our long-haul charter flights will have to pay the same APD fee as those flying in first class on a scheduled flight – so we've removed this cost from their holidays."
"There is no evidence of this tax having any environmental benefit and we will continue to lobby on behalf of our holidaymakers.
"Through our 'Beat the Taxman' promotion we hope to support holidaymakers' disapproval of these new charges that they will now incur alongside reiterating our commitment to offering our customers the very best value for money."