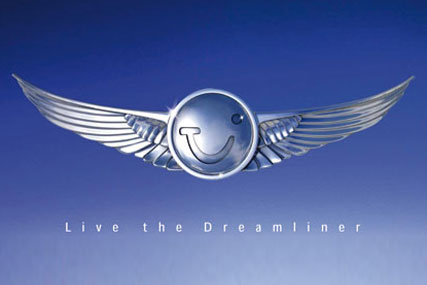 The first burst of activity will break later this week, to coincide with the Farnborough International Air Show, the destination of the Dreamliner's first flight to the UK.
Created by Beattie McGuinness Bungay (BMB), Thomson Airways' campaign will kick off with the launch of a website, Livethedreamliner.co.uk, as well as the brand's sponsorship of the film 'Legends of Flight 3D', which is being screened at the Science Museum's IMax 3D Cinema.
The campaign will feature fresh Thomson Airways branding, which has also been developed by BMB.
The logo depicts chrome pilot wings, which have a slight upturn to reflect the distinctive shape of the 787, combined with the tour operator's familiar "smile" symbol.

Advertising and promotions will launch in the run-up to the first 787 commercial flight, scheduled for January 2012.

Rebecca Edwards, general manager of the airline's parent company, TUI Travel, said the campaign strategy was to "go out with strong leadership communication".

She said: "New aircraft don't come along that often, so it's a really good opportunity to do something big."