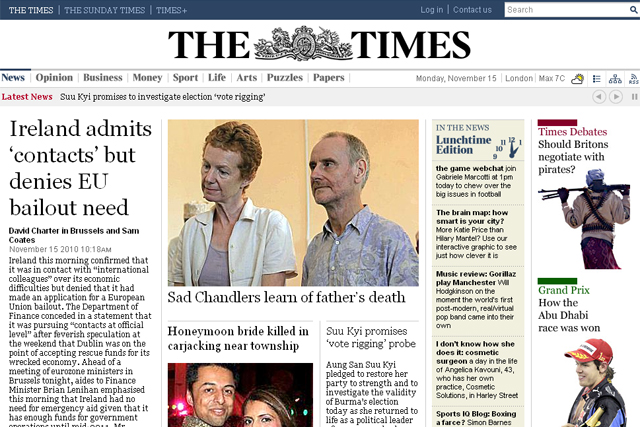 The company promotes itself as the "network built for mobile internet" and is offering new contract and pay-as-you-go customers the chance to bypass the online paywall around The Times and The Sunday Times at no additional cost.
Following the initial three month offer, pay-as-you-go customers who top up every 30 days will continue to get free access to The Times and The Sunday Times for the following month.
Contract customers will have to pay £2 per week via direct debit to continue to access the sites after the first three months. The offer is available to all new customers until 31 March 2011.
Alys Mathew, head of customer propositions mobile broadband at Three, said: "As more people consume news online, a partnership with The Times is a perfect offer for our mobile broadband customers.
"Three's network has over 97% population coverage for 3G services, so we're happy to expand the reach of The Times online readership across the country to more mobile devices."
Three's digital subscription deal with News International includes access to breaking news and email alerts from The Times and Sunday Times sites.
The package also includes in-depth features and interactive graphics, daily debates and Q&As, access to The Times iPad app, invitations to exclusive events and cinema screenings, offers for theatre tickets, hotel stays and luxury escapes and extras such as competitions, downloads and gifts.