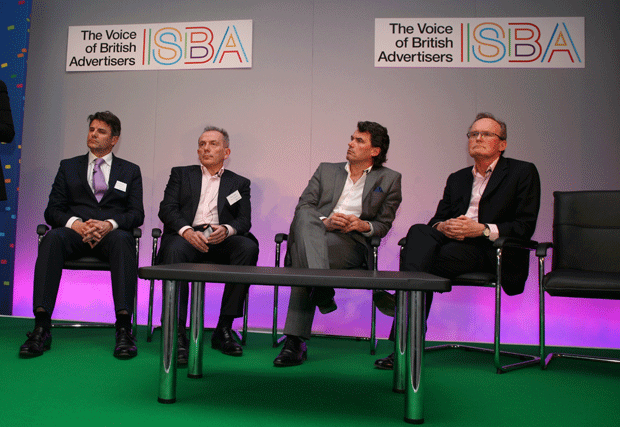 From the threat of EU and UK government regulation to coping with brand management in the social age, the ISBA annual conference provided a guide for marketers looking to sail their brands through troubled waters.
Jon Woods, ISBA president and Coca-Cola GB & Ireland general manager, warned it would be foolish for brands to plan for any improvement in the macro environment, but added that those willing to flex 'innovation muscles' could 'generate more for less'.
Here we look at the key topics of discussion that emerged over the course of the day: social media, data and marketing talent.
Social media
The modern equivalent of an 'ancient Greek agora', is how William Scougal, the UK head of brand strategy at Twitter, describes the social-media platform.
You would be 'hard-pressed' to find a TV ad that is not discussed on Twitter, he said, revealing figures showing that TV campaigns with a lot of interactive elements make the biggest impact on the platform. Three's 'Dancing pony' campaign, which allows users to create and show their own versions, received more than 180,000 Twitter mentions in seven days, according to Scougal.
Not everyone was impressed, however. Nigel Walley, managing director of consultancy Decipher, tweeted: 'To all presenters of social media: Don't tell me what you "did" (ie cost). Tell me what you achieved (ie revenue, audience outcome etc).'
Earlier in the day, Microsoft UK chief marketing officer Philippa Snare said the social aspects of its 'Brandon Generator' campaign have helped the company break down traditional barriers between consumer and business marketing. Activity invited people to help build the content that would 'finish the story' of the Brandon character.
Data
With online behavioural advertising a continuing hot topic, many at the event were keen to hear from Robert Madelin, director-general of the European Commission's digital industry body, DG-Connect.
He urged delegates to prove that the marketing industry is serious about creating an 'effective' self-regulatory system 'with teeth', citing Channel 4's 'Viewer promise'
as a strong example of data transparency. 'As long as there are boundaries in what you are prepared to talk about, mistrust will grow and people will want the lawyers in,' he said.
Madelin also expressed his hope that the EU will look closely at personal data, with a new category of 'pseudonymous' data, such as cookies and IP addresses, to enable the identification of a specific data subject without knowing their personal identity.
Meanwhile, Heathrow marketing and insight director Nick Adderley shared the airport's work on data during a session titled 'data and the content opportunity'.
He warned delegates: 'If you do not have a single place where you put all your data and get the right tools to understand what it means, you might as well give up.'
Marketing talent
A dose of realism - and concern about the discipline - was delivered by the high-level speakers during the 'Marketing and the boardroom' panel discussion.
Steve Langan, managing director and group marketing director of Hiscox UK & Ireland, admitted to being 'worried' about the UK talent pool. He argued that, in the past, FMCG stalwarts such as Procter & Gamble acted as 'marketing universities', but now 'pretty much all those companies are consolidated - many have marketing departments based in Geneva, so I'm not sure how we get that talent to come through'.
Speakers were united in recommending that marketers get out of marketing and into different departments to make themselves fit to be future leaders.
L'Oreal UK & Ireland managing director Jeremy Schwartz told delegates: 'The best thing you can do is more sideways moves.
It's not a sprint, it's a marathon if you really want to get to the top.'
At an earlier session, Sainsbury's head of PR Sarah Ellis, who has been identified by the supermarket's marketing director Sarah Warby as one of its 'rising stars', said her 'face did a pretty good impression of a goldfish' when she was told she had to leave the marketing department to work at a store.
But Ellis, who ended up moving into corporate affairs, added: 'Getting new experiences across other areas of the business is phenomenally helpful.'
Reporting by Alex Brownsell, Matt Chapman and Gemma Charles.