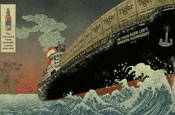 The work, the first by CHI & Partners since its appointment to the Tiger account last year, is a series of distinctive posters, which present a nostalgic vision of Singapore. Tiger said the campaign was intended to evoke 'feelings of nostalgia and intrigue' for 1932, when the beer was first brewed.
The series of illustrations pay homage to the woodblock printmaking of the Far East. Each piece depicts a cargo ship piled high with its precious load of crates of Tiger leaving Singapore bound for Britain.
Reinforcing Tiger's slogan of 'The Far East's most desirable export since 1932', each cargo ship carries a message on its side, warning people against the temptation to scale the ship to reach the crates of Tiger. The messages, borrowed from security notices and integral to the illustration, read: 'Cargo is securely locked. Crew has no access to keys'; 'No Tiger Beer left on board overnight'; and 'Warning: anti-climb paint.'
The campaign, which breaks on 10 March, will appear in six major UK cities, linking with key Tiger outlets in those locations. Other special placements will appear over the course of the year.
Launching at the same time as the advertising will be a nationwide competition run in conjunction with Metro, offering prizes of exclusive trips to the Far East.
The ads and competition are intended to appeal to an urbanite audience who are intrigued by the Far East and have a desire to explore and travel to different countries.