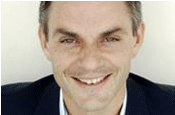 He replaces Jenny Abramsky, who is leaving to become chair of the Heritage Lottery Fund.

Davie will oversee a budget of £200 million across all BBC radio stations.

He said: 'As a passionate advocate of radio, I am excited by the challenge of continuing to deliver not only distinctive BBC services, but also to support the growth of the medium as a whole across traditional and digital platforms.'

Davie joined the BBC in 2005, before which he worked as vice president of marketing and franchise at PepsiCo Europe.