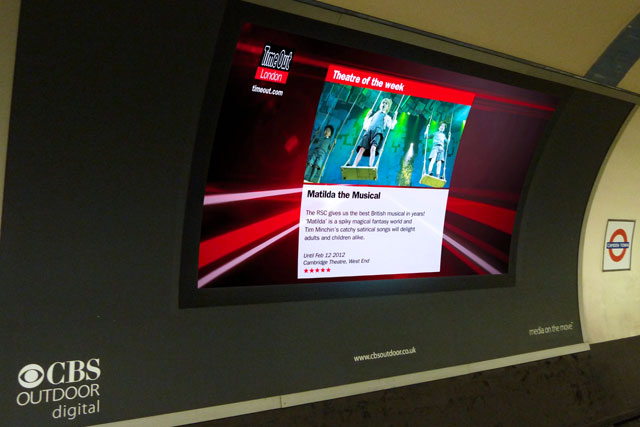 The "digital advertorials" will run on 60 digital cross-track projector screens in London Underground station across the city and will serve recommendations including theatre, exhibitions and restaurants.
Every other day, from today, Time Out will provide recommendations for the theatre, exhibition and events on Sunday and Monday, films on Tuesdays and Wednesdays and bars and restaurants from Thursday until Saturday.
Other outdoor media owners carry news bulletins from the likes of BSkyB news channel Sky News but it is understood this is the first time Time Out has decided to use outdoor media in this way.
Time Out Group has expanded its offering in the past year by rolling out online-only ad funded magazines around the world, following the sale of a 50% of the business to the private equity firm Oakley Capital.
Ben Cordle, marketing manager at Time Out, said: "London is one of the most dynamic and constantly evolving cities on the planet, where the option of things to do is ever-changing and almost infinite.
"We're delighted to be working with CBS Outdoor UK to get across our essential guide of what's going on in the capital to such a broad audience, in such an innovative way."
The partnership was agreed between Time Out and CBS Outdoor directly and no money is believed to have changed hands.
Jason Cotterrell, country director at CBS Outdoor UK, said "Our XTP format and network already stands out as the only full motion digital display in London, now it can offer even more relevant and exciting content.
"This campaign brilliantly utilises the unique dwell time of cross-track advertising, providing these urban consumers something genuinely engaging and useful for them on the busy journeys around the capital."
Follow Maisie McCabe on Twitter @MaisieMcCabe