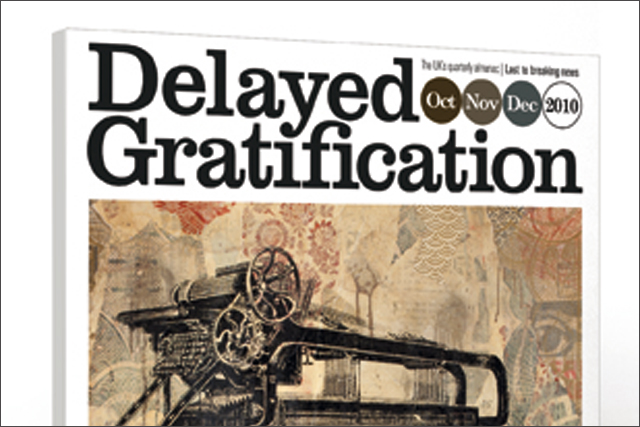 The title, called Delayed Gratification, will focus on politics, science, culture and sport. It will concentrate on news from the previous three months as well as past stories the reader "may have missed".
It is described as a title that "measures news in months not minutes" and "returns to stories after the dust has settled".
Webb will retain his role at Time Out and will be editorial director of Delayed Gratification. The magazine will be published quarterly from January 2011.
Webb set up The Slow Journalism Company this year to publish the magazine. It is separate to Time Out but is based in the magazine's London office.
The magazine will be available to buy online from www.dgquarterly.com at £12 per issue or £40 for a year's subscription, and will be distributed in luxury hotels and airlines. It will not be on sale at newsstands.
The publisher said there would be no advertising in the first issue although from the second issue Delayed Gratification would aim to have 10% advertising content for 90% editorial.
The publisher is hoping to attract high-end clients such as whiskey, watch and travel brands.
As well as daily summaries for the three previous months presented in the style of an almanac, the title will have longer features that analyse the biggest news stories from the period.
The first issue, out in the second week of January, includes a long piece on the Ryder Cup and the Twitter trial of Paul Chambers, the man who was convicted of "menace" for tweeting that he would blow-up an airport.
Webb said: "Our idea is to play up to print strength – we're not anti-internet but we wanted to create something pretty which readers would enjoy consuming slowly. We wanted to let writers return to stories with a bit of hindsight."
Webb will work alongside publishing director Rob Orchard who previously founded the contract-publishing company Hot Media Publishing in Dubai and is a freelance consultant for Time Out Croatia.
Orchard said: "The magazine is not a mass market title, it's a targeted and high quality publication offering an uncluttered advertising environment.
"As such we'll be looking at high-end advertising brands in the financial, luxury goods, automotive and travel categories which we believe would match the audience profile."