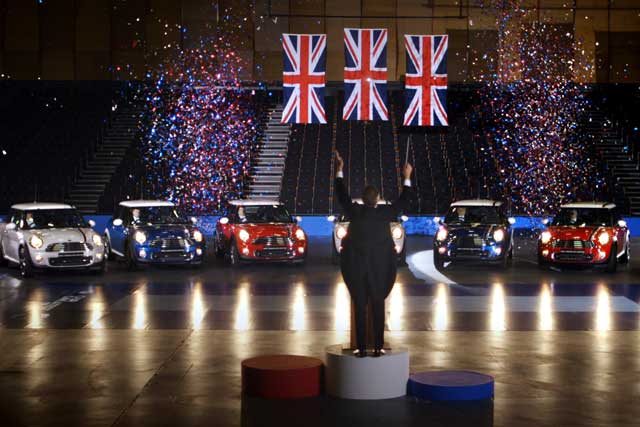 Who could forget when they said "LONDON" in Singapore back in July 2005? It was a window on the ultimate pitch moment. Gave you goosebumps and a massive smile. We - all of us - had won the biggest pitch ever. And we all felt it.
Anyway, now it's July 2012. And here we are in the midst of the last days before the most exciting London event in our lifetime starts.
The creative industry has certainly been thankful that London won the bid. Like so many agencies, the Olympics have kept us busy on the client front - we've been turning cars gold for BMW, helping to create new "Olympic" flavours of Vitaminwater for Coca-Cola and getting the London Philharmonic Orchestra playing the national anthem on the horns of Minis in the Royal Albert Hall, while our reputation specialist, MHP, has been handling the UK public affairs for the London Organising Committee of the Olympic and Paralympic Games.
But, as the client work draws to a climax and the Games get fully under way, there is a new challenge that agencies have been facing. How do you, as an agency working in the city that the whole world will have its eyes on, deal internally with some of the more everyday issues that the Olympic Games throw up?
There's absolutely no way you can ignore it and pretend that business is going on as usual. But you also can't afford to just take your eye off the ball for the whole month. You want some semblance of an agency to come back to when September (and relative calm) comes around.
Logistically, at least, we've been trying to find a happy medium. In some circumstances, it is sensible for people to work from home, especially if they have a commuter route badly affected. But we're pretty determined to keep the building operating as normal as possible during the period (even if it does mean that the milk and teabags are being delivered between midnight and 6am).
Sure, inevitable travel chaos may mean many people will want to shift the hours that they normally work but, in the main, we've got most staff digging deep into their British spirit and happy to be at 60 Great Portland Street.
And, indeed, if the worst is to happen, we've spent the best part of the past eight months ensuring we have emergency message systems and threat plans in place and that our internal offerings, such as the Engine Studio, have places to relocate to if disaster strikes.
So that's the bit about how we're going to keep all the wheels in motion. But it's important that we celebrate the enormity and the excitement of the Olympics and understand that we want everyone to get the most out of this moment. We need to keep Engine staff motivated, inspired and happy. And what better way to be inspired than to experience the self-styled "greatest show on earth"?
With this in mind, we've ensured that every group of desks in our building will have access to a TV screen showing the Games and we'll be screening all major moments in the bar area.
The Olympics should also be seen as a brilliant opportunity for those in the UK communication industries to flex their creative muscles in unique ways.
For the past few years, we've been subjected to hundreds of features looking at how overseas agencies are "catching up" with London ones. So, now that all eyes are on London as a creative centre point, we should be doing our best to take full advantage.
The possibilities here are vast. At Engine, we have launched a dedicated Olympics digital hub (olympics.theenginegroup.com) that, for the duration of the Games, will take the place of our original website. This portal will be constantly updated with blogs related to the Games, covering a wide range of topics from sponsorship to athletes' social media use, as well as Tweets, pictures and videos taken by our members of staff.
We hope the site will not only provide a great platform for our employees to share their Olympic experiences, but it will also be a valuable source of information for our clients to enjoy.
And, once the Games are over, we're planning on holding a follow-up to our Socialympics event, which took place earlier in the year. It will be a great chance to assess the part social media played in the Olympics and see whether the predictions that London 2012 would be the first "social Games" were indeed correct.
In a different way, these projects are just as important as our client-facing work. It's initiatives such as these that give us the chance to look at the bigger picture and have fun, while also proving that we are agile and culturally relevant.
You only have to spend a few days in Cannes to see the agencies that are perceived to be leaving London shops trailing - whether that's BMF in Australia, Droga5 in the US, Del Campo Nazca Saatchi & Saatchi in South America or BETC in mainland Europe - are busy creating content of their own as well as the brilliant campaigns they're producing for their clients.
Hosting the Olympic Games here in the UK is a rare chance to celebrate all that is great about London. It is up to us to be able to do that in a creative way - a way that benefits ourselves and our clients. And, most importantly, in a way that gives our staff the chance to enjoy and be inspired by such an incredible event, while making sure that we don't wake up in September with a massive hangover and a huge hole in our numbers to fill in the final quarter.
Debbie Klein is the chief executive at Engine.
OLYMPIC NIGHTMARES What has really been keeping me awake at night ...
- Clients too busy streaming live footage of the Games to sign off purchase orders.
- An increase in staff sick days - in South Africa, it was found that a quarter more employees took sick days during the period that the country hosted the Fifa World Cup in 2010!
- The vital logistical stuff - being able to ensure the safety of staff in the event of a security scare.
- The less vital (but still important) logistical stuff - ensuring the newspapers, magazines and milk for our free breakfasts still get delivered.
- Amid all this, ensuring that our staff still get to enjoy what is arguably the biggest event to take place in their home city during their lifetime.
- And, finally, making sure I too balance my diary so I can enjoy some of the Games with my kid (I'm super-excited about the synchronised swimming).