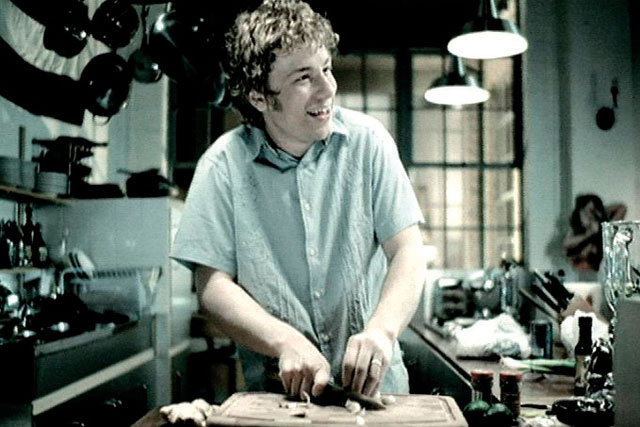 2000
June: Sainsbury's signs Oliver to front new TV advertising after the account moved back to Abbott Mead Vickers BBDO from M&C Saatchi.
The laddish star of BBC's 'The Naked Chef' is credited with broadening cooking's appeal to a wider and younger audience. His appearance is set to signal a return to "everyone's favourite ingredient," the celebrity recipe format which became the supermarket's most successful TV campaign.
June: First series of spots starring Oliver start on British TV. The first 40-second spot opens with Oliver enjoying a drink with friends. As they wander out of their local pub, he invites his companions round for a 'ruby'. Stopping off at a late-night Sainsbury's, Oliver picks up the ingredients for a curry. In true Oliver fashion, his friends are bowled over by the results.
"We're not going back to the good old days of Sainsbury's advertising but neither did we want something radical that had no roots in the brand's traditional offering," says AMV's chief executive Andrew Robertson.
July: Sainsbury's group chief executive Sir Peter Davis says Oliver's endorsement is encouraging loyalty among existing shoppers and encouraging new ones through the doors.
2001
January: Oliver and his wife Jules appear in a New Year ad campaign promoting the supermarket's Be Good to Yourself range
April: Sainsbury's and the BBC fall out when the supermarket's ads are scheduled against BBC shows featuring Oliver.
2002
January: Oliver signs a £2m deal for the next four years.
February: Sainsbury's apologies after being accused of racism for its latest Oliver spots promoting its oriental food range, which features the cockney chef speaking like Chinese characters in badly dubbed movies.
February: The BBC and Oliver fail to reach an agreement about a new TV series, with the chef's lucrative advertising deal with Sainsbury's the main sticking point.
2003
January: Oliver ad for Sainbury's voted 2002's fourth most annoying spot.
June: As Sainsbury's signs an extension with Oliver for a further year, his endorsement is judged to have delivered £1.12bn in incremental revenue, making the campaigns featuring him 65% more effective in adding sales than previous ads, according to ad industry executives.
2004
May: Sainsbury's abandons plans to replace Oliver as the face of its advertising. Oliver agrees a one-year deal worth more than £1m and will appear as a "quality detective" in a series of new TV and radio ads.
2005
February: Oliver's future looks shaky when Sainsbury's calls a review of its £47m advertising account, with his contract up in May.
March: Oliver and Sainsbury's are pressed to apologise for an ad praising a Scottish salmon farm that, according to a protest group, should be shut down for failing to meet environmental standards.
March: Oliver triumphs as the government earmarks an extra £280m for school dinners after his campaigning TV series 'Jamie's School Dinners' and petition.
April: His new-found popularity suddenly has the supermarket negotiating to sign him for another year at a much higher fee, as AMV faces off against JWT in the advertising review.
May: Sainsbury's retains AMV and offers Oliver £1m for another year.
September: Sainsbury's introduces its 'Try Something New Today' positioning, which sees Oliver providing new cooking ideas and replaces its 'Making life taste better strapline'
October: Oliver works magic again as Sainsbury's sees sales rise
2006
January: Oliver named most influential person for Britain's middle-classes
March: Sainsbury's extends his contract for a further year, revealing after an ad featuring him using nutmeg it had to order two years' worth of supply to satisfy demand for the spice.
September: Sainsbury's says it will save Oliver for its biggest ad campaigns as it scales back his appearances after more than 100 ads over six years.
November: Sainsbury's unveils a kids' healthy-eating promotion, with Oliver's school dinners work fresh in the memory
2008
January: Oliver criticises Sainsbury's for failing to turn up to a debate about chicken farming on his Channel 4 TV documentary 'Jamie's Fowl Dinners'.
January: Sainsbury's chief executive Justin King backs Oliver, saying his "independence of mind is a great benefit to Sainsbury's"
February: There is speculation that Sainsbury's will part with Jamie Oliver later in the year after other supermarkets shift away from celebrity-backed marketing strategies toward price promotions as consumer spending slows.
August: Sainsbury's vows to phase out its sales of battery-farmed poultry. Oliver says: "This is another massive step in the battle for better standards where chicken welfare is concerned. I'm delighted Sainsbury's made this commitment."
November: Ant and Dec join Jamie in Sainsbury's Christmas ad
2009
June: Oliver and the "Try Team" encourage people to cook in Sainsbury's ad
November: Oliver takes to the road in Christmas ad
2010
February: Oliver appears in ad for Sainsbury's Active Kids Scheme
April: Oliver stars in new 'Taste' ad
September: Sainsbury's relaunches Taste the Difference range with Oliver
November: Sainsbury's launches 'perfect Christmas' campaign with Oliver
2011
March: Sainsbury's reports slowdown in sales growth
May: Oliver leads £10m campaign to introduce a major new marketing initiative promising to show how to feed a family of four for £50 a week.
June: The supermarket chain rolls out a 'Switch the Fish' campaign fronted by Oliver offering shoppers free sustainable fish, a move backed by Oliver.
July: Sainsbury's and Jamie Oliver split after 11 years. Justin King, chief executive of Sainsbury's, describes the partnership as "one of the most successful and mutually rewarding" in the supermarket sector.
He said: "Jamie has been an excellent ambassador for the Sainsbury's brand over the past 11 years, spearheading our goal to offer our customers fresh and tasty food, while maintaining strong ethical standards."
Oliver said: "I'll miss them but it's a good time to move on."
Read Rachel Barnes' blog: Brand Jamie Oliver put Sainsbury's in the shadows - so it's the right time to try something new.