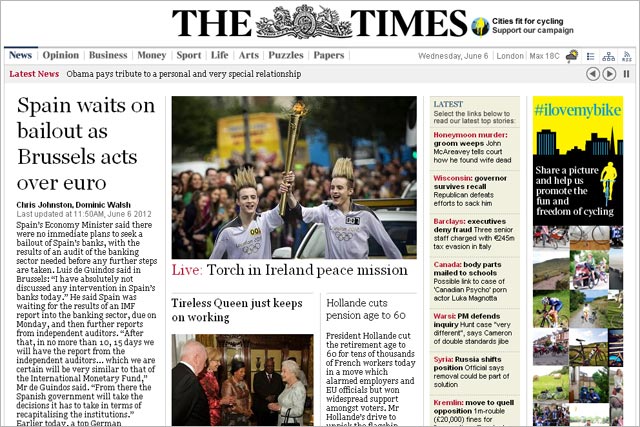 The Times is believed to have added around 120,000 to its average circulation on Monday (June 4), after it published a special souvenir edition for the Jubilee.
The websites of the Times and Sunday Times were free to access during the Jubilee weekend – the first time since parent company News International put up the paywall two years ago.
Now sources have suggested The Times and Sunday Times will be free to access for two or three days during the Olympics, which takes place between 27 July and 12 August.
There is, however, no suggestion that News International is looking to bring down the paywall permanently.
Media Week has been told that the two sites picked up around 6,000 new registrations on Saturday and Sunday. People wanting to access The Times and The Sunday Times websites on either Saturday or Sunday, had to register an email address before they were allowed access.
News International will now contact the 6,000 new registrations and try and encourage them to sign up as paid-for subscribers. The newspaper publisher is hoping to convert one in six of the new registrations.
Currently, The Times and Sunday Times have around 130,000 paid-for subscribers to their websites and tablet editions. An additional 170,000 subscribe to the papers, which offer free digital access.
News International charges from £2 a week for digital-only access to the sites and £6 per week for seven days of newspapers, internet and tablet access.
According to the Audit Bureau of Circulations (ABCs), The Times registered an average circulation of 393,187 in April.
But sources have told Media Week that The Times souvenir special drew in an extra 120,000 copies. This figure, however, has not been independently confirmed. Philip Webster, online editor of The Times, said: "Our extensive online coverage of the Jubilee attracted several thousand new registrations."
Follow John Reynolds on Twitter @johnreynolds10