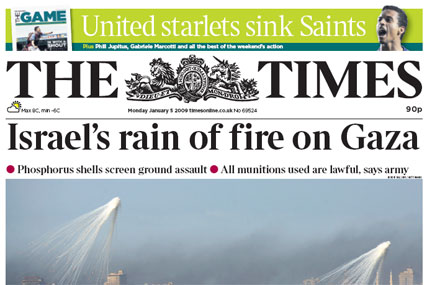 The price rise, which took effect from today (January 5), was announced on page two of the paper on Saturday (3 January). In the Feedback column of the paper, Sally Baker said it gave The Times no pleasure to ask readers to pay more in a tough year, but added that the price rise was inevitable against the background of the economic downturn and the ever-rising cost of newsprint.

Baker said The Times hoped the legendary loyalty of its readers would see the paper through the challenges ahead.

Today's price rise will be worth £59,393.20 a day to News International as an average 593,932 copies of The Times are sold in the UK each weekday, according to November ABC figures.

The price rise is the second hike in just over four months. The Times daily cover price rose to 80p on 1 September, putting the Times on equal footing with The Daily Telegraph, The Independent and The Guardian for the first time in 15 years.

The Telegraph subsequently raised its cover price to 90p and The Independent increased its cover price by 20p to £1, while The Guardian remains 80p during the week. The Financial Times costs £1.80.

In September, the price of the Saturday edition of The Times rose by 10p to £1.50. News International has not said whether the Saturday price will also now be increased.