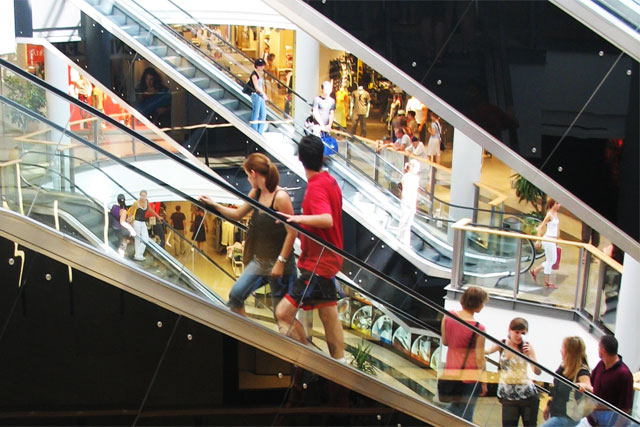 During the eight weeks of the Olympics and Paralympics, Sunday trading laws will be relaxed to allow larger retailers to trade for more than six hours on a Sunday.
George Osborne said: "It would be a great shame - particularly when some of the big Olympic events are on Sunday - if the country had a closed for business sign on it."
The government hopes that by temporarily suspending the rules, visitors coming to London will take advantage of longer trading hours which will help boost falling retail sales.
Retailers in Britain are hoping the relaxation could provide them with a much needed boost in sales of around £220 million.
Business minister Norman Lamb said: 'This will be a fantastic opportunity to showcase, not just London, but the whole of the country to the rest of the world and provide a boost for the economy, sales and employment."
The 1994 Sunday Trading Act restricts retailers over 280 sq metres to opening for a maximum of six hours on a Sunday.
The emergency legislation which was passed in March will allow retailers in England and Wales to trade for 24 hours during the Olympics and Paralympics. The temporary suspension commenced on 22 July and will continue until 9 September.
The relaxation of the legislation was welcomed by Asda, Debenhams, Tesco and Boots. Groups opposed to the relaxation include the campaign group 'Keep Sunday Special' and shopworkers' union Usdaw.
There has been some speculation that the temporary relaxation may lead to permanent changes in the law.
John Hannett, general secretary of Usdaw, said: "Usdaw remains vehemently opposed to the deregulation of Sunday trading and we expect the government to abide by its commitment that this summer's temporary suspension will not lead to any further attempts to extend Sunday opening hours."
Research by Ipsos Mori suggests that a permanent relaxation in the laws may become inevitable as the current younger generation of shoppers matures.
In the research conducted earlier this month, around half of adults (52%) said they were against a permanent extension of the current Sunday Trading laws following the Olympics compared to 36% who were in favour of a permanent extension of the laws. The remaining 12% were undecided.
However younger adults aged 15-24 show a much greater enthusiasm for a permanent relaxation, with 50% being in favour and only 35% against. In contrast, older shoppers prefer the status quo - only 28% of 55-64 year olds and 21% of the 65+ age group would like to see a permanent change in the Law.
This generation of youngsters have spent most of their shopping lives post the introduction of the 1994 Sunday Trading Act and have grown up accustomed to unrestricted trading hours on other days of the week.
The research by Ipsos Mori suggests that the younger generation of shoppers are less conservative than their parents and less attached to the idea of keeping Sunday special.
Groups wanting to keep Sunday special have always argued that allowing stores to trade on a Sunday would destroy families.
However the research shows that those with children are actually more likely to be in favour of permanent extended hours on a Sunday than those without children. Forty two percent of those with children in the household are in favour of a permanent extension compared to only 33% of those without children.
Perhaps this is because for today's generation of families, shopping at the weekend has become a leisure activity in itself for the whole family, as opposed to just an essential chore (or maybe those with children are more desperate to get out of the house!)
For those who have always been able to shop online on any day of the week and at any time of day, the current Sunday trading laws must seem fairly antiquated.
And at a time when bricks and mortar shops are struggling to compete with the internet to attract shoppers, it could be argued that allowing extended opening hours on a Sunday would help them to compete on more equal terms.
Sasha Birkin, associate director, Ipsos Marketing
Ipsos MORI spoke to 999 adults in GB aged 15+ between 6-12th July 2012, using CAPIBUS, its face to face omnibus.