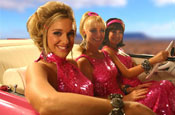 The ranking below, compiled from the 51 Adwatch tables that ran between 1 November 2006 and 31 October 2007, ranks ads that scored highest in one particular week. A number of these ads generated high recall with relatively tiny budgets, in contrast to the Adwatch ranking (click here) showing which brands achieved the most recall across the whole year.
Several of this year's best-recalled ads are also strong contenders for the Marketing's annual "irritating ads" public opinion poll to be published in January, but nevertheless they are memorable.
To unpick why these ads polled so well with the public, we have selected reviewers from the agencies that scored the highest in Marketing's ranking (click here) of agencies whose ads in 2007 received the most mentions in Adwatch.
Marketing's Adwatch of the Year: Commercials with best recall in any single week
2007
2006
Brand
Agency/TV buyer
Score
TV spend
(% recall)
(£m)*
1
Sheilas' Wheels
In-house/Carat
78
5.07
The three Sheilas are joined by 'ordinary' women singing.
2
4=
Iceland
Tom Reddy Advertising/MediaCom
76
7.03
Kerry Katona presents various 'roast from frozen' Christmas joints.
3=
1
Churchill
WCRS/MediaCom
75
15.8
i. People flood onto the streets to 'challenge Churchill' on home insurance.
ii. People tell how they saved money on car insurance by 'challenging Churchill'.
3=
8=
DFS
Uber/Brilliant Media
75
35.66
Clips of families and couples, accompanied by musical backing of Let It Snow.
3=
PC World
M&C Saatchi/Walker Media
75
20.56
Sales assistant presents offers on various accessories as Christmas present ideas.
6=
Asda
Fallon London/Carat
72
18.09
Lisa Tarbuck helps out on the checkout at Asda.
6=
eBay
DLKW/PHD
72
6.04
Animated coloured characters discuss what is in the loft and how it could be used.
8
Woolworths
Bartle Bogle Hegarty/ZenithOptimedia
71
10.81
Worth the dog and Wooly the sheep unveil the new catalogue.
9=
2=
Sainsbury's
Abbott Mead Vickers BBDO/PHD
70
26.06
Jamie Oliver presents a two-for-two offer on Comic Relief red noses.
9=
Marks & Spencer
RKCR Y&R/Walker Media
70
37.02
i. Images of M&S mulled wine, lamb and pine nuts and plum sponge (40")
ii. M&S 'healthy food', with clips of meals being prepared.
9=
Weetabix
WCRS/Walker Media
70
11.36
The ad shows a week of various Weetabix toppings, including berries, honey and yoghurt.
Source: Marketing
*Nielsen Media Research data fo rthe period Nov 2006-Oct 2007.

1. Sheilas' Wheels
'Ordinary women'
James Miller
Director of international planning,
AMV BBDO.
The girls from Sheila's Wheels offering "bonzer car insurance deals" are among Adwatch's most recalled ads of the year.
Instinctively I find this troubling. My first reaction is that the ads are annoying and fall into the rather lazy 'if you can't think of anything interesting to say, sing it' school of advertising.
I mentioned this to my wife the other night. Big mistake. Turns out she loves Sheila's Wheels. In her words, "it's the first funny car insurance ad I've seen in my life. It doesn't get better than a catchy tune sung by people in awful, bright pink costumes. It's mega cheese but it knows it's mega cheese. And I like that it rewards the fact that women drivers are better than men".
I could despair and mock (and in truth I did) but on reflection I know she's right.
Car insurance ads are generally dull, rational and full of the most bizarre mnemonics - red phone on wheels, talking bulldog or Michael Winner anyone? In that context Sheila's Wheels doesn't stand out, it leaps out. It's fun and spirited; these people are having a laugh selling car insurance.
And I'm sure it does sell car insurance. Let's not forget that Sheila's Wheels is pushing a real point of difference - this is car insurance for women that rewards the fact they are safer drivers. I'm sure most car insurance companies offer women cheaper rates but no one is singing about it like Sheila's Wheels.
Good on ye' mate.
Click here to view the ad.
2. Iceland
'Kerry Katona and roast from frozen Christmas joints'
Richard Storey,
Chief Strategy Officer
M&C Saatchi
You have to admire everything about this Iceland advert (except the advert itself).
Because it simply doesn't care about how 'good' it is.
This commercial is utterly and wonderfully commercial.
Iceland know that average advertising is very risky (whereas the only 'bad' advert is one that's ignored). So they don't aspire to excellence. They don't even aim for 'good'.
Instead they wholeheartedly embrace their audience; Time pressed mums with several small children, limited incomes and several relatives to provide for at Christmas. People for whom convenience and value are far more important than quality and integrity.
The choice of Kerry Katona as the mum who goes to Iceland is an inspired commercial decision. Whether she's a good mum or a travesty is beside the point. She's commercial. She's bang on audience, spot on brand and rarely off the gossip pages. Who cares whether she's good or bad. She's noticed.
In my family, there are countless Christmas rituals surrounding the turkey. The entire fridge is reorganised to accommodate it. For a couple of days it becomes a surrogate family member. Even sleeping and waking patterns are organised its cooking schedule.
My Mum clearly doesn't go to Iceland. If she did, we'd cook one of their 'roast from frozen' joints. In fact, we'd cook several - turkey, gammon, beef, chicken, salmon, pork, lamb and 'boozy goose'. What a spread.
I get indigestion just watching this advert. But that's its point. It's not supposed to be good. It delights in being bad. It offers excessive choice at shamefully low prices. It's lazy, crass and saccharine.
And it scores 76% recall in the chart of charts.
That says it all.
Click here to view the ad.
3 = Churchill
'Challenging Churchill'
Russell Ramsey
Executive creative director,
JWT
Famous or infamous? That's the question. So people remember it, but is it for the right reasons? Does it annoy or does it engage? Churchill have toured the country with a bus load of actors pretending to be gullible members of the public who get money off their insurance. They've filmed the results then put a nodding dog (or is it Vic Reeves) on the end saying 'oh yes'.
'Oh No', I think everytime I see it on TV, so yes I do remember seeing this ad. I remember how annoying it is and immediately switch channels.
This is advertising equivalent of the long ball game. Not pretty to watch but sometimes effective. It's the kind of ad that everyone finds irritating.
However it's not alone in the insurance sector which is full of annoying ads. Why are they all the same? It's all about testimonials, price and phone numbers.
The agency responsible is probably not that thrilled that this ad is so prominent since it's damaging their creative presentation. We'd probably like to bury it in the middle of Golden Square or hide it in the boot of a BMW. It's advertising at it's most pragmatic. Can't wait to see what the follow up will be (actually I can).
I'm guessing a seaside town, a park or another shopping centre. Warning: if you see a big bus with Churchill written on the side run for the hills.
Click here to view the ad.
3 = DFS
'Winter sale'
Rachel Hatton,
Head of planning,
According to AQA, the great British public spends an average of 40 hours on the sofa over the festive period. That's about five hours per day. Five very long hours, if you've got a dodgy sofa.
So it's a good time to prompt reappraisal in the upholstery department. It's also a good time to catch people watching telly. Which is, no doubt, why DFS deployed £4.5m on TV during December 2006 to advertise their Winter Sale - making them the biggest advertiser that month, bar Unilever and P&G.
So was it money well spent? With insufficient time to ask the great British public, I did the next best thing. I asked my mum and dad what they thought about the ad. They're in the market for a new sofa. And they're honest to goodness Yorkshire folk, with an eye for a bargain. "Well, it's telling you they've got lots of sofas", they said. "And some good deals." You can't argue with that.
DFS certainly manages to be ubiquitous. I'm reliably informed by my friendly media expert that you're never more than half an hour away from a DFS ad on TV. However, I can't help feeling that with a more engaging idea, they might shift more product and build a stronger brand. They could probably cut their adspend by a few million quid too, saving themselves a good few bob into the bargain. Now that's what I call a good deal.
(As my mum and dad might say.)
Click here to view the ad.
3= PC World

'Christmas accessories'
Ben Kay
Head of planning,
RKCR/Y&R
If I only had 50 words to write, this would be quite straightforward. Bottom line, I'm pretty sure that this work works, so let's not get all precious about it, because that's what matters. People see it, remember it and shortly afterwards I'm sure that the tills start ringing in those giant warehouses that lurk around our towns and cities.
Unfortunately I have 250 words and this is where it gets difficult. First up, whilst PC World makes its money by selling boxes, it looks like it makes ads by ticking them. There are so many facts, brands, stats, gags and jingles built into 30 seconds that someone looking for the calm reassurance that the 'best of both worlds' should offer might end up cowering behind the sofa with a nervous tic.
Also, what is the best of both worlds? In this context I suppose it means online prices with in-store service. But I'm not sure I buy it, Amazon teaming up with Geek Squad would probably give me a better best of both worlds than an hour's drive to St Albans to find a warehouse that may not stock what I need or be able to answer that question I didn't know I had.
There's one computer store I'd drive to, and that's the Apple store. Why? Because it gives me the best of the two worlds that will matter in the long term, it is simultaneously inspiring and simple.
Which I'm not sure this ad is.
Click here to view the ad.
Adwatch Methodology:
Adwatch is the UK's leading monitor of the memorability of TV advertising. The weekly Adwatch system was established more than 20 years ago to monitor the saliency of television advertising. Because Marketing wanted to avoid simply registering 'morning after' recall, it decided to research commercials a few weeks after they first go on air.
How it works
Xtreme Information draws up a list of all new commercials that broke in a particular week (about a month before the research takes place).
Mediaedge:cia works out the TV ratings of all the commercials on the list.
Any commercials that have had enough exposure (usually about 40 spots a week) are then sent to TNS and researched online among 1000 16- to 64-year-olds in Great Britain who read a brief description of each ad before confirming whether or not they have seen it.
Marketing puts the information in tabular form and prints the top 20.
Click here to see Marketing's Adwatch of the year 2007
Click here to see AMV BBDO top agency in Marketing's Adwatch of the Year 2007
Click here to see Vox Pops: the ads the public remembers
Click here to join the debate: Does high recall equal crap ads?