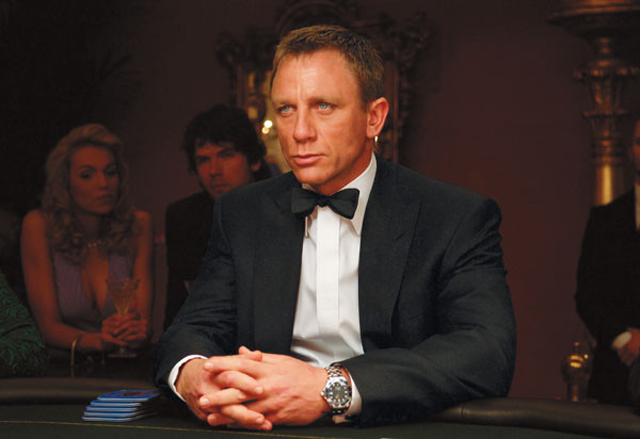 Dom Perignon, Rolex, Aston Martin and Walther PPK are all brands that have become intrinsically linked to James Bond, ever since Ian Fleming's creation first graced the silver screen in the 1960s.
Bond, whose 50 years on film are currently being celebrated ahead of this month's release of Skyfall, is not only the world's best-known secret agent, but a franchise that has become synonymous with, and arguably kick-started, the concept of brand and product placement.
But while the tone set by vintage champagnes, luxury watches and British sports cars shares a certain resonance with 007, at the other end of the scale there are those brands whose associations with the franchise are jarring.
Here we list some of the clunkiest James Bond brand associations you may have forgotten:
1 Red Stripe
While many Bond purists are up in arms over news that Daniel Craig will order a Heineken instead of a martini in Skyfall, beer has been cast repeatedly in supporting roles in Bond movies - although admittedly until now has not been drunk by Bond. Nevertheless, Red Stripe has the accolade of becoming the first lager to appear in a Bond movie, appearing in the first-ever Bond film Dr No in 1962. Bond is seen fighting over it (literally, not in a plot sense of course), punching character Quarrell into a pile of Red Stripe boxes in a bar in Jamaica.
2 KFC
In the days before Kentucky Fried Chicken became KFC, the fast-food brand appeared in 1964's Goldfinger. In the film's climax, FBI agents stakeout Fort Knox from a KFC. Goldfinger-lickin' good.
3 BP
For oil giant BP, it was a blink-and-you-might-miss-it appearance in A View to a Kill, in a scene in which Bond accomplice, played by Avengers actor Patrick Macnee, is assassinated at a car wash at a BP service station.
4 Renault
View to a Kill has several scenes played out in France, so it's perhaps little surprise that Renault cars makes a number of appearances. But the standout has to be a car chase in which Roger Moore (or rather a doesn't-lookalike stunt double) hijacks a Renault taxi and repeatedly crashes it until he's left driving just the front third of the car.
5 Unigate
Unigate Milk might be better remembered for its 70s-coined advertising slogan "Watch out, there's a Humphrey about", but the brand's sexiest, if rather misplaced, marketing coup was a placement in The Living Daylights. A KGB agent disguised as a Unigate milkman pulls up at a mansion house in Unigate-branded milk-float and flings bombs disguised as milk bottles at goodie agents.
6 Lark Cigarettes
Anyone remember Lark Cigarettes? Nope. They were a Philip Morris brand that was smoked by Timothy Dalton in Licence to Kill, with a pack even doubling as a gadget in one scene. The brand's rather crass placement sounded a death-knell for tobacco promotions in films when it provoked calls to ban fag placement in films. Licence to Kill was also the first Bond film to feature a Surgeon General's tobacco warning in the closing credits.
7 Avis
In Tomorrow Never Dies, Avis does not merely get an on-screen nod, but has gadget aficionado Q intercepting Pierce Brosnan's Bond at an airport, disguised as an Avis employee, replete in red blazer and red tie and wielding a red clipboard.
8 Mondeo
Ford can be forgiven for allowing some of its cars to appear in Bond films, most notably for letting its hip muscle-car Mustang roar its engines and screech its tyres in Diamonds are Forever. But Ford, nor Bond's producers for that matter, cannot be forgiven for letting Bond drive a Mondeo in Casino Royale, a car that even travelling salesmen find a bit dull.
9 Avon
Rather tenuous this, but door-to-door cosmetics brand Avon may have appeared in Quantum of Solace. Actress Gemma Arterton heavily endorsed the firm's Bond Girl 007 line of women's fragrance and could have been wearing it in the film.
10 Omega
However, if there were an award for crassest product placement, it goes to watch brand and apparent Rolex wannabe Omega. In an exchange between Craig's 007 and Eva Green's Vesper Lynd in Casino Royale, the following exchange takes place:
Lynd is seen admiring Bond's watch, clearly mistaking his timepiece for a more expensive brand.
"Rolex?" she asks.
"Omega," answers Bond.
"Beautiful," says Lynd.
Ew...