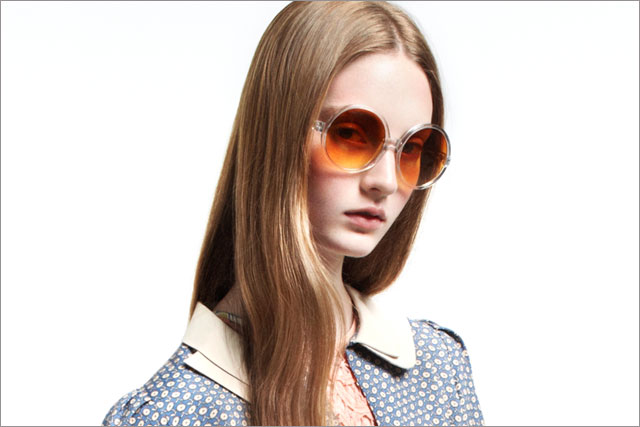 Topshop removed a picture of Codie Young, a US size zero/two and UK size eight model, wearing a blue high-collared dress and large circular sun-glasses that appeared to dwarf her.
Topshop replaced the picture with a different image of Young on Monday, following a story from the Daily Mail that claimed the Arcadia-owned retailer was hit by complaints from eating disorder groups.
The Daily Mail piece carried a quote from Karen Easthall, who runs an anorexia support group in Norfolk, who said: "A disturbing picture of a stick thin model can cause problems with young girls who may try to copy them. Topshop should know better."
Young responded to the story on her blog. She said she is "naturally skinny" and "very hurt" by the situation.
She said: "My dad is six feet five tall and skinny and my mum is also skinny. I am very happy with my body and how I look because it is a part of who I am."
Andrew Leahy, head of press at Topshop, said: "Topshop is confident that Codie is a healthy young woman and we do not feel it necessary to remove her from our imagery based on [the Mail's] feature.
"However we do recognise regretfully that the angle this image has been shot at may accentuate Codie's proportions making her head look bigger and neck longer in proportion to her body.
"Furthermore, Topshop only retails size four within our Petite range. This range wouldn't be appropriate for Codie as she would be too tall at five feet 10. The Petite range is aimed at women who are proportionately smaller at five feet two or under.
"Topshop is proud of it's heritage of celebrating individual-looking girls who offer an alternative and more unusual beauty, however we take these comments very seriously and took down that specific image at the earliest opportunity."
Beat, the anorexia charity, was quoted in the original Daily Mail story as saying that using such thin models is "clearly not" ok. However, Beat released a statement today that said the quote was wrongly attributed to the charity, stating that its name has now been removed from the original story.
Beat said: "We would not comment on an individual in these circumstances.
"The fashion industry is beginning to embrace diversity, we welcome this and would encourage it wherever possible."
In 2007, Unilever banned size zero (UK size four) models from appearing in its advertising in response to public opinion.
One size fits none: A March 2010 Marketing analysis about brands coming under fire for using ultra-thin models and airburshing in ads