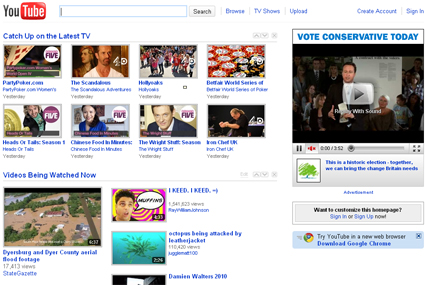 Visitors to the video-sharing site's main page will see the party's final election broadcast, 'A Contract between the Conservative Party and you', for the duration of polling day.

Labour meanwhile yesterday sent a mass text message to more than 50,000 supporters - urging them to pound the streets to get the vote out.

The text directed them to the party website, which has a special splash page for the final two days, and requested their details. Those parting with their details receive a phone call from a dedicated volunteer who informs them of their nearest marginal seat.

Labour has also released a 'Word of Mouth' application which lets supporters change their Twitter and Facebook avatars to one that says 'I'm voting Labour on 6 May' and updates their Facebook and Twitter status.

Additionally, special ads will run on Labour-friendly blogs today which update by the minute the time remaining until polls close and reminds people to vote Labour. People will also be able to use these ads on Facebook and Twitter to tell their friends and colleagues that they've voted and encourage them to do likewise.

The Tories say their move represents the biggest online investment for a single day by a UK political party to date and will be hoping it gives them the edge in the most closely fought election since 1992.

This last gasp push rounds off a huge investment in marketing by the party since the start of the year which has seen it gain a higher level of awareness among the public than its rivals.

Digital activity has included a comprehensive Google Adwords strategy, bespoke web pages around current issues and social media campaigns.

However the Conservatives can also lay claim to having the most lampooned ad as its poster campaign featuring a prominent image of leader David Cameron was widely spoofed amid claims of airbrushing.

In an unprecedented move, less than two months before polling day the party hired M&C Saatchi to work alongside incumbent Euro RSCG London.