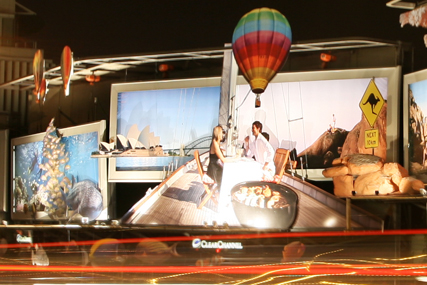 The media activity has been planned and bought by Carat and Starcom, and details the Emirates flights to Australia via Dubai from Heathrow, Gatwick, Birmingham, Manchester, Newcastle and Glasgow, which start at £599.
As part of the multimedia campaign, Tourism Australia and Emirates have installed a special build across six consecutive Clear Channel 96-sheets on Cromwell Road in west London, designed to "bring Australia to life".
The promotion also includes road and trackside 48-sheets, Transvision screens in mainline rail stations, 40-second radio ad in catchment areas around the relevant UK airports, and print and online activity.
Rodney Harrex, regional general manager for UK and Europe at Tourism Australia, said the two partners wanted to reinforce the message that "you can fly from your regional airport to Australia with Emirates, and once you get there, you will have an incredible holiday, returning home with stories that will last a lifetime".
Emirates has 70 flights a week to Australia and Conrad Clifford, vice-president of UK and Ireland at Emirates, said promoting Australia was now "more of a priority than ever" for the airline.