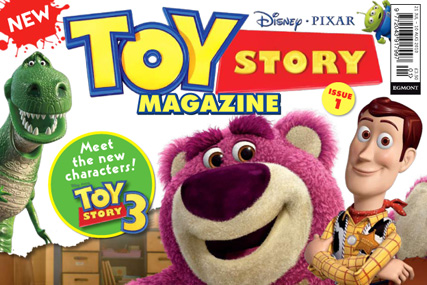 Toy Story magazine will be targeted at four to seven-year-old boys and will have an initial print run of 100,000.
Published monthly, each edition will comprise 24 pages, although there will be 28 pages in the launch edition, priced at £3.50.
The magazine also contains four pages of advertising featuring 'Toy Story' related products sold by Tesco, Mattel, Disney and Lego.
Content will include original comic stories featuring characters such as Sheriff Woody and Buzz Lightyear, as well as games, puzzles and colouring.
There will also be content to educate readers about the real world. The first edition features a fact file about the moon, introduced by Buzz.
Egmont's portfolio of Disney titles include Disney Princess, Disney Tinkerbell and Playhouse Disney.
Alison David, commercial director of Egmont UK, said: "We are delighted to announce the launch of the Toy Story magazine and are extremely proud to add such a loved and respected brand to our magazine portfolio.
"This publication is sure to be a hit, as the children and their parents continue to seek new ways to engage with the story and characters, especially over the summer holiday period."
The Walt Disney Company bought CGI animation film studio Pixar in 2006.