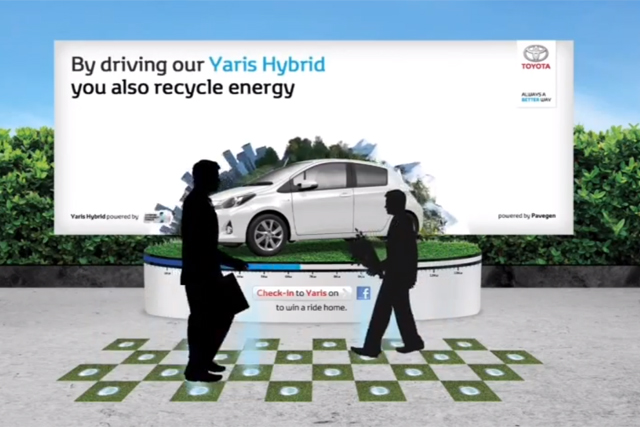 Second place and £75,000 of space on Ocean Outdoor's media went to the charity Compassion in World Farming for its interactive entry 'The World's First Real Live Feed' by Elvis, which had a text-to-donate mechanism.
Heineken and its media agency MediaVest picked up third place and £50,000 of space for a campaign which invited football fans to become part of the world's largest team photo in the run-up to the 2013 Uefa Champions League final.
The awards were announced by Ocean Outdoor chief executive Tim Bleakley at a special event at the London's Imax this morning (Thursday) attended by executives from across the industry including creative, digital, media and outdoor agencies.
Warner Brothers and digital outdoor production agency Grand Visual were highly commended for an ad promoting the DVD and Blu-Ray release of 'The Dark Knight Rises' for exceptional use of many digital formats.
Bleakley said: "Each year, this competition produces Cannes Lion finalists and winners. The quality of this year's entrants is no exception and reflects the seriousness that the creative community now attaches to the potential of digital out of home. This year also saw the first entries from media agencies, once again signalling a convergence of disciplines.
"Our top four winners are all game-changing campaigns which demonstrate the immediacy and relevance of knock-out installations which are simple, strong, highly scalable and likely to catch fire through their amplification well beyond their chosen sites."
Rich Sutcliffe, digital development director at Haymarket Business Media, said: "The depth and spread of this year's entries is matched by the quality and strength of the big creative ideas coming through.
"Getting into the final set of winning entries this year was a tough call, but the scale of the winning ideas tick all the necessary boxes and exploit the unique nature of digital outdoor."
To see this year's winners and a creative showcase of all the entries, go to: www.artofoutdoor.com
Alongside Bleakley and Sutcliffe the other judges were: Andy Fowler, executive creative director at Brothers and Sisters; Pavlos Themistocleous, head of digital creative at OgilvyOne; Craig Morgan, innovation director, Grey London; Roy Jeans, chief executive of Rapport; Glen Wilson, managing director of Posterscope; Carolyn Nugent, UK head of digital at Kinetic; Steve Parker, managing director MediaVest; and Adrian Cotterill, digital commentator at Daily DOOH.