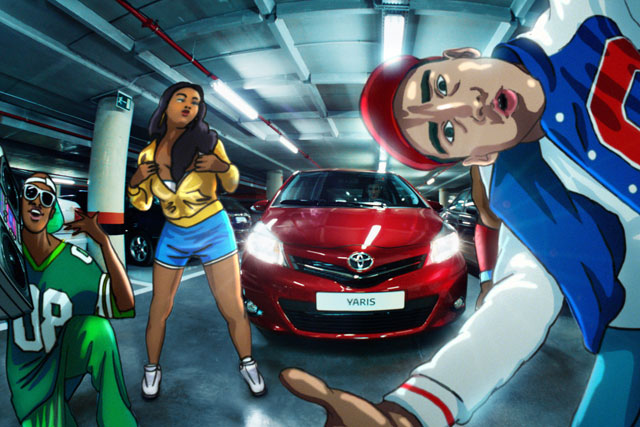 An initial six-week TV, digital and direct marketing push will target 20- to 30-year-olds with humorous stories about key attributes of the car, such as its touchscreen multimedia system and rear-view camera.
According to Lisa Fielden, brand development manager at Toyota GB, the campaign is one of the most significant to be launched by the car manufacturer in the past five years.
'Toyota, as a whole, sells to older consumers. With the new Yaris, we wanted to signal a step-change, and reach out to a younger audience that hasn't considered Toyota before,' she said.
Fielden now oversees its UK advertising since the departure of marketing director John Thompson in March, to a role with Toyota in Japan.
The TV ads, by Saatchi & Saatchi, have been directed by renowned pop music video creators Jonas and Francois. In one execution, a Yaris driver faces a tussle with a 4x4 for the last car parking spot. Animated street dancers appear on the scene, rapping 'But, can you do this?', before the Yaris quickly reverses into the space.
The ads, which carry the tagline 'Outsmart life in a Yaris', break on 13 August. Digital activity has been devised by glue Isobar, with direct marketing by Kitcatt Nohr Digitas.
A further tranche of activity will be rolled out in six months' time, to mark the launch of Toyota's Yaris hybrid, which it claims is the first in the 'B' segment.
Toyota has sold 10,968 new Yaris models this year, according to the SMMT, down from 14,349 in the equivalent period in 2010.
Separately, in May this year, Toyota abolished the position of UK marketing director after a review of its management structure, which sought to remove overlap-ping roles. Jason Stanley, general manager marketing communications, now reports to commercial director Matt Harrison.