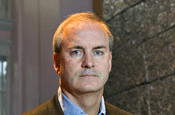 Senior figures within the industry's trade bodies are understood to want agencies to increase the pay of incoming graduates by £5,000 a year.

At present, graduates at creative agencies begin on about £20,000. Media shops offer about £18,000.

This is in sharp contrast to management consultants, which may offer up to £35,000, and merchant banks where graduate salaries can begin as high as £40,000.

Agency chiefs have resisted going any way to matching this because of the cost and for fear of unsettling graduates already employed.

But Hamish Pringle, the IPA director general, said this week: "In order to make the case for talent the industry needs to make the investment and prime the pump with extra money."

Trade bodies are worried less about the industry's ability to attract graduates (about 500 of them will join agencies this year) but more about sustaining a quality intake and stopping the high fall-out rate.

"It's not that the graduates coming in are crap. We're attracting some very good people," an industry source said. "But where are the ex-union presidents or the university newspaper editors?
"These are the people we need if we're to continue talking intelligently to clients about their business."

Separately, the IPA is bringing back the copy test, once a prerequisite for entering a major agency creative department, to attract people who might not have thought of advertising as a career.

The test will be hosted online and the results judged by a panel of creative directors. The best candidates will be offered agency work experience.