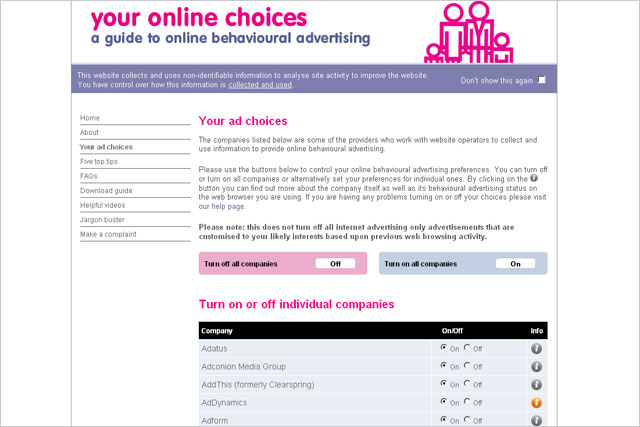 The campaign launches later this year. It will give consumers information about the cookie consent icon, which has begun to appear across websites in Europe as part of the industry's response to the European Union's ePrivacy directive.
The Internet Advertising Bureau (IAB), Direct Marketing Association (DMA) and European Association of Communications Agencies (EACA) are among the trade bodies behind the campaign.
It is likely the campaign will be created by an advertising agency, but it has not been announced whether the campaign will be above the line or digital.
Speaking to Marketing Nick Stringer, head of regulatory affairs at the IAB, said the "broad thrust" of the campaign would deal with the types of online ads being served, what the icon means and how to opt-out of online behavioural advertising.
He said: "We want the icon to be as recognisable for consumers as the recycling icon."
Ahead of the launch, the IAB has revamped the UK version of its Your Online Choices website. From today it provides improved information about the types of companies involved in online behavioural advertising.
It includes a video that explains how behavioural advertising works and how ads are delivered to websites, as well as an updated frequently asked questions section.
The icon is a cross-industry initiative, first announced in April last year, to promote openness and transparency around behavioural advertising. It was also brought in to stave off tighter regulation which could have led to the need for prior consent, as part of the revised European Union ePrivacy Directive.
According to the IAB, 95% of businesses serving behavioural ads are participating the EU self regulatory scheme. They began rolling out from 1 May and the deadline for the initiative to come into force is October.
Stringer said UK businesses "are leading the way" in their introduction of the icon, due to being more of a gateway to a global market than other European countries.
US businesses with European outposts have had a head start introducing the icon, having already introduced it in the US.
Earlier this year the IAB and ValueClick published research which showed that half of UK internet users are happy to see online advertising because it supports online services and content at little to no cost, with only one in 10 are willing to pay for ad-free content.
Follow Sarah Shearman on Twitter @Shearmans