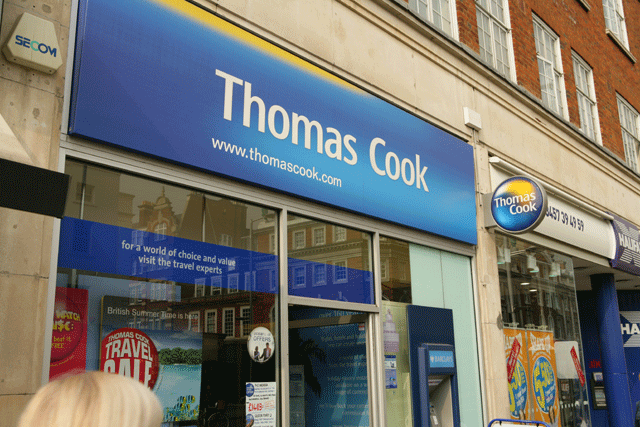 Thomas Cook, one of the UK's 'big two' tour operators, shook the travel industry last week by announcing it will be carrying out a 'fundamental and operational strategic review' of its UK business, as it issued its third profit warning this year.
The operator had undergone a restructure only last December, resulting in 500 job cuts, in attempts to save up to £50m a year. Now it is forecasting that profits will be down about £20m for this quarter, compared with the same period last year.
Thomas Cook says the online market is playing an 'increasingly important role' in its business, but claims high-street bookings remain key.
The operator's strategic review is intended to rejig its balance of online and offline bookings. This potential change of focus gives a taste of the urgency with which the wider travel market is looking to switch business model to one with a far greater emphasis on online bookings.
The figures back up this realignment. The latest data from Mintel reveals that, of 25,000 people surveyed, 67.1% booked a holiday online in 2010. This compared with 49.9% booking a holiday in a travel shop.
Nonetheless, with many people taking multiple holidays, different needs are reflected in the choice of booking channel. While nearly seven out of 10 people booked an overseas break online, just two in five people who booked a package holiday did so.
So, does this signal the start of a death knell for the high-street travel agent? Thomas Cook admits it is 'addressing current trends', but is adamant it will not be closing stores. After all, visiting a branch still offers an extra degree of comfort for consumers.
However, Thomas Cook's review has been sparked by the inexorable rise of the online booking agent. Indeed, Andrew Warner, marketing director EMEA of online travel agent Expedia, says there is 'further headroom' for growth in web bookings.
He claims that, in US and Scandinavian markets, the majority of all travel bookings are made on 'digital devices' already. 'Over time, technology will allow on-demand access to ever-more personalised services, which won't close at 5.30pm,' he adds.
Travel shops are still opening, albeit at a slowing rate. In April last year, The Co-operative Travel unveiled plans to open 150 high-street agents. Virgin Holidays, too, is set to increase its high-street presence to 120 stores by 2012. TUI, which has more than 850 Thomson and First Choice shops across the UK, is planning a more-modest 20 openings over the next couple of years.
Nick Longman, TUI's director of distribution for the Thomson and First Choice brands, believes customers will always want access to the expertise and assurance that they receive in a retail travel outlet. 'Not all customers have the confidence to book online,' he adds.
Online brands such as Expedia try to overcome this issue by offering over-the-phone customer service.
The integration of bookings is also championed by Virgin Holidays. 'There is a place for retail alongside the web and the phone,' says Andrew Shelton, the brand's marketing director.
Consumers are becoming more at ease with buying holidays online by the year, however. This is reflected in the growing number of them crossing between the internet and the high street, conducting research or booking all or part of their holiday online.
With a tech-savvy generation fast growing up and booking their own holidays, a strategy that puts the web at the centre of operations will become essential for all travel operators. After three profit warnings this year, it seems Thomas Cook is starting to wise up to that fact.
EXPERT VIEW - 'HIGH-STREET DEMAND REMAINS'
Tim Williamson, Former customer director, TUI Travel
The web has a huge role to play in booking travel, but so do high-street shops.
In the recent times of insecurity and companies going bust, we've seen high-street trade increase.
How you perform as a tour operator is partly down to how well you can fill the aircraft and all the hotels you have prepaid. However, I think the actual performance of the high street always comes down to the individual shop.
When a manager really understands their customers, provides real value and a personal service, those shops will always do well, irrespective of the brand above the door. It's because customers feel they're getting a great service.
Nearly all the people booking through TUI will go online at some point in the process, whether it's for a flight or a hotel. However, only about 30% of long-haul holidays are booked online, because it's a big transaction and a quite complicated booking.
With city breaks and short-haul holidays, the percentage of people booking via the web is much higher.
High-street bookings remain very strong. You can't say it's just going to disappear: it doesn't work like that in travel.