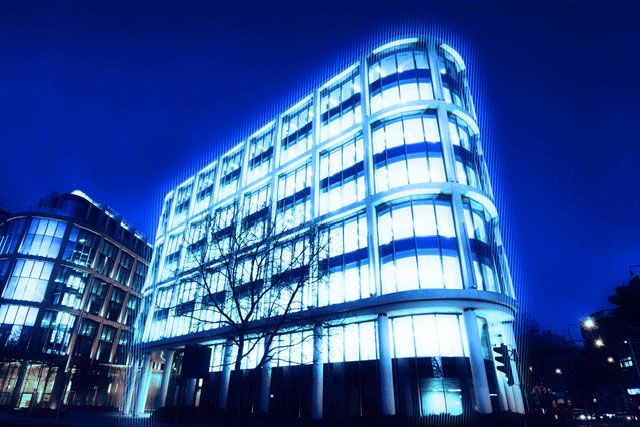 In April last year, Aegis Media decided to bring together its agencies under one roof. The move was designed to promote new ways of flexible working, as well as improve Aegis's shared offer.
On 26 April 2011, Vizeum, glue Isobar, iProspect and Marvellous packed up their desks and moved into a state-of-the-art building near Regent's Park in central London. By July, Carat and Aegis Group had joined them.
Fast forward 12 months and while the world's fastest growing media communications group, valued by the London Stock Exchange at just under £2bn, has settled in well to life in NW1, the UK's principal media owner, the BBC, is still struggling to adjust to its new life in the North.
According to the National Audit Office, the cost of running the BBC's offices and studios had increased by £80m to £284.1m a year, in the four years to 2011.
The public spending watchdog blamed the increase in overheads on the decision to move programming such as 'BBC Breakfast', Radio 5 Live and 'Match of the Day', to MediaCityUK in Salford.
In total, the relocation to Salford cost the BBC £877m and has resulted in refusals to relocate from high-profile presenters and the unfulfilled promise of a reported 15,500 jobs to the people of Manchester.
The broadcaster hopes to recuperate its costs within 20 years, while providing a better service to its 17 million licence-fee payers in the North. Yet, if the BBC has managed to alienate staff and viewers in the South without winning many friends in the North, the one question that won't go away remains – what exactly was the point, beyond a vastly expensive exercise in geopolitical correctness?
According to the registry of the Institute of Practitioners in Advertising (IPA), some 46 out of 59 member media agencies are headquartered in London, which suggests no significant ground swell to look outside a city still renowned for its central and west-side clusters of media owners and brands with high media spend.
Carat UK managing director Tracy de Groose backs this up by saying there was never any discussion about the possibility of relocating the companies of Aegis Media outside central London.
She does confess however, that increased pressure on client budgets and a resurgent focus on Manchester, which has intensified in the wake of the BBC's relocation, mean that a central London office no longer provides all the answers.
In July last year therefore, Aegis Group acquired 75% of MediaVest Manchester. The agency's clients included Holland and Barrett, JD Williams, Barratt Developments and Thomas Cook.
It has since been merged into the Carat and iProspect brand names, but has retained its offices in Manchester, Edinburgh and Leeds.
De Groose says: "Whilst we work better as one central team and we're able to have more open collaboration and face-to-face discussions with London-based clients, we also understand the need for virtual delivery and the importance of regional offices serving clients on their doorstep.
"Manchester is bubbling under as an influential media hub and Edinburgh is interesting due to the possibility of Scottish independence. I think, as an industry, we have to prepare ourselves for a future that consists of key hubs around the UK with supportive agency businesses and more flexible working conditions for employees."
Bruce Hutton, the IPA's Out of London Group chairman, and chief executive of Bray Leino, has much sympathy with the BBC's decision to relocate.
He believes that the UK is still overtly obsessed by London's lure and a quick glance at the location of leading media agencies in the US and Asia reveals that they are spread more evenly across their respective countries.
Hutton says: "Why would you be in London if you absolutely didn't have to be there? As an employer you have to pay an additional 20% in salary and the cost per square foot in office space is more than double anywhere else in the country."
Bray Leino employs 400 staff, the majority of whom are based in Devon.
"If your agency model is fully integrated and you possess good technology then I would argue that you can be based anywhere," continues Hutton.
"We are a company in Devon but we're not a Devon company. We work hard on behalf of our clients including Danepak, Hedrin and Freederm, but after work, our staff can go surfing.
"I can often cycle the seven miles to the office without coming across another vehicle. We believe in developing home-grown staff and apprenticeships, and as a result, they stay with us for longer because they put down roots in the surrounding communities."
So why does London still act as such a big draw for media agencies then?
According to Total Media's head of international media, Jacqui Purdy, the UK capital will always resonate with global brands and trades strongly on its unrivalled reputation for international media.
She says: "Clients arriving in from Paris or flying in from San Francisco want ease of access to their media agency and London is one of the best-connected cities in the world.
"They want to know that we have strong links to digital and web design agencies who are also based in London, and that we can collaborate more easily with the resources that are based here.
"If you want a strong national or international footprint, then you need to ensure that the heart of your operation is based in central London. Brands don't want media agencies scattered across the country. They want to know where the hubs are located as that's where the main resource and expertise lies."
Total Media has almost 100 staff working out of a west London office, which recently celebrated its 30th birthday. The company also has 10 people working on regional accounts, including Slimming World, from a Birmingham base.
Purdy says: "The regional office tends to focus on regional activity. For example, we're about to launch Slimming World into the US, but because it's an international campaign, the brand wanted it run from our London headquarters, despite the account being held in the Midlands."
Simon Parker, managing director at TCS Media disagrees. He says that in his experience, there are many brands based in the north of England that simply don't want to deal with a London agency.
"They feel that London agencies charge London prices, whilst their staff wear expensive suits and drive fast cars," he says. "These may be long-held myths, but in a modern world, regional hubs connected by a centralised online system is a better way to service a broader range of clients."
Parker describes TCS Media as a single brand accessed from three points – London, Wilmslow and Worcester.
Its recent work includes returning pet healthcare brand Bob Martin to television advertising for the first time since 1987, with 10-second and 30-second ads to celebrate the brand's 120th anniversary.
Parker continues: "The Wilmslow office is ideal for clients in the Manchester area, whereas Worcester services the Midlands and the South-West.
"London may have the majority of our staff, but we make sure that information is shared via a central online resource and that £1 of a client's budget equates to the same high value in media spend whichever part of the country it's placed in."
Simon Price, managing partner of MEC, which has offices in London and Manchester can only remember a handful of occasions in the past 12 years where a client has specified that they wanted an account run from a London office.
He has noted a trend for fewer face-to-face client meetings and an increase in the use of video conference calling.
It leads him to conclude that as long as the agency is selling value for money, inspirational ideas and well executed campaigns, it's a non-issue where that agency happens to be based.
Price says: "Our Manchester office works with clients such as Crown Paints based in Blackburn and Webuyanycar.com based out of Rochdale, but we have the same specialist account handlers in Manchester as we do in London.
"We never positively discriminate and feed the larger accounts through the London network. If you're good at what you do, you can grow your business with the best people anywhere in the country.
"The BBC has shown that location is no longer an issue for media owners, so why should it be any different in the agency world?"