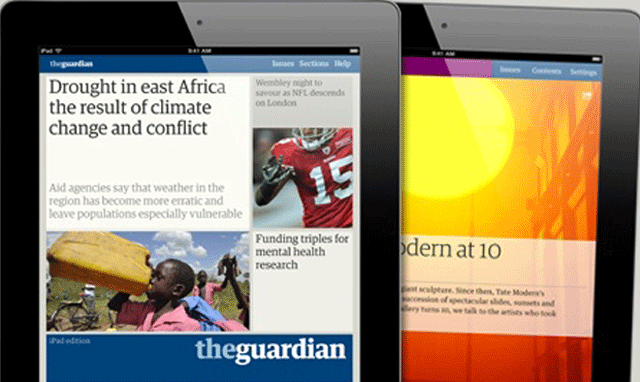 It's hard to believe, but the Financial Times has been charging subscribers for access to its digital content for a decade now. However, as FT.com managing director Rob Grimshaw (pictured below left) admits, it wasn't until the introduction of the paper's "metered" model in November 2007, which samples content for free before imposing a charge, that they really "got to grips" with monetising digital content.
As the dawn of the tablet era rises and the printed newspaper industry shows no signs of recovery, the FT is currently growing an online base of 3.7 million registered users and 230,000 paid subscribers.

It's an enviable position for any publisher to be in and advertisers have responded.

The Daily Telegraph, with 335,000 print subscribers, is also believed to be a fan of the "metered" or "freemium" model and is heavily rumoured to be considering it for an online paywall early next year.

A Telegraph Media Group spokesperson denies that any decision has been taken on the introduction of a paid content model online but says, "Like all publishers, we continually evaluate developments in the digital sector."
The biggest development over the past 12 months is without doubt, tablets. New releases from the likes of RIM (BlackBerry Playbook), Samsung (Galaxy) and HP (TouchPad) are increasing the opportunities to offer a richer, more engaging user experience, bolstered by both Wi-Fi and 3G connectivity to create the perfect environment for real-time updates.
At this year's Consumer Electronics Show in Las Vegas, 80 tablets launched onto the worldwide market, while a recent survey from the Online Publishers Association in the US predicts that around 54 million Americans will be accessing their media by way of a tablet as early as next year.
The FT originally launched its iPad app in May 2010, with the Telegraph just one of a number of British newspapers that followed suit over the next 12 months.
Like the other papers, the Telegraph offers its readers digital access via the App Store. Users can buy individual copies of the newspaper through In-App Purchase, buy an auto-renewable monthly subscription for £9.99 also through In-App Purchase, or gain free access if they already subscribe in print.
The main commercial difference between the FT's tablet presence and that of all the other newspapers is that in June this year, the FT decided to start encouraging users to bypass its original offer from the iTunes App Store in favour of a new web-based application.
The decision came after several publishers expressed unhappiness at Apple's high commission charges and its reluctance to share detailed behavioural data on users of apps distributed through its store.
Other publishers have held back from taking similar action, mainly due to the simplicity of iTunes, which has credit card details for more than 225 million people and allows downloads with just a click or two.
The FT's Grimshaw says, "It's not just about Apple. It's about not wanting to second-guess our customer base and making sure that we keep adapting to ensure they have a consistent experience."
News Corp is entering its second year of the The Times and The Sunday Times sitting behind online paywalls. Separate iPad apps for each title were launched in May and December 2010 respectively.
Earlier this year, the company announced that it had converted 79,000 users of The Times website to paid subscribers by the end of February, including those signing up via iPad and Kindle. That figure has since grown to 101,036 monthly paying subscribers across web, tablet and e-reader devices, while on a daily basis throughout July this year, 35,000 editions of The Times and 32,000 editions of The Sunday Times were downloaded from tablet apps.
So far this has encouraged around 60 repeat advertisers such as BT, Audi, Lexus, Carphone Warehouse, Travelex, Barclays and IBM to sign up to The Sunday Time and The Times.
Alex Hole (pictured left), digital commercial director at News International, says, "It's incredibly exciting to see how readers engage with the different advertising formats and interactive content solutions.

"We're studying the effects of tablet advertising for brand recognition, memorability and comparability.

"For as long as the newspaper sector has no standard formats, we will continue to experiment."

Dominic Finney, director at FaR Partners, an agency that advises media owners on improving the commercial performance of their digital platforms, believes that the reader experience on The Times and The Sunday Times is excellent and will continue to appeal to both advertisers and subscribers.
Finney says, "It's no coincidence that it's those newspapers, which have a slightly older readership, living in certain parts of the country and who earn enough money to buy first- and second-generation technology, who are the ones forging a commercial path into tablets.
"Most of the tabloids may have some sort of tablet presence but the view seems to be that it's not the right time for them yet. They're doing nothing more than replicating their paper editions onto mobile devices."
Tom Wilkinson, head of press partnerships and innovation at Mindshare UK agrees, "It's the quality newspapers that are forging ahead due to the entry price point. The reader demographic of the tabloid market may not be able to afford an iPad2 currently", he says.
"As more tablets enter the market however, it will push the prices down and a greater number of more mainstream advertisers will sit up and take more notice."
Wilkinson (pictured left) admits that in the current climate it is not easy to sell the idea of bespoke tablet advertising into clients.

He says, "On the one hand the entry cost of advertising on tablets is tiny but the budget still needs to come from somewhere. At present, many clients just don't have well-defined mobile marketing budgets.

"Also, the return-on-investment is difficult to measure because each publisher is testing out different metrics so there's no standard in place.
"We're working with newspapers to convince advertisers that tablet advertising is the future way to go. But to achieve this, we need to work together to assess all the measurement models, such as dwell time, click-through, page impressions and downloads to decide upon which are the most effective."
Instead of joining the experimental bandwagon and putting full editions onto tablets during 2010, The Guardian opted for a different route to market.
While other media owners scratched their heads over which subscription model would provide the biggest return, The Guardian did a branded content sponsorship deal with Canon and launched a free iPad photography app called The Guardian Eyewitness. The free app gives professional photography tips against a daily Guardian photo and has been downloaded more than 610,000 times.
Since the launch of the free Eyewitness app, Guardian News and Media has signed a syndicated content deal with the Flipboard app and updated its mobile app to a subscription model.
It has also launched a free and ad-supported Zeitgeist app for the HP TouchPad, which pulls together content that's receiving the most amount of attention on the Guardian website.
Currently, Guardian News and Media is piloting its long-awaited iPad app among user groups. It will launch by the end of September.
Steve Wing, Guardian head of digital marketing, says, "Our iPad app will be offered initially free with bespoke in-app advertiser support. We've never been ideological about which business model works best with tablets, as we understand that this is the time for experimentation."
Media agencies are particularly looking forward to the Guardian's iPad app.
Mindshare's Wilkinson says, "More than a third of The Guardian's content is social media driven, so they are definitely seen as a more adventurous player.
"The tablet market needs a highly interactive newspaper app from The Guardian with premium content and bespoke advertiser formats. If users only use their tablet for browsing free news content on the internet, the decline of newspapers will continue.
"But if a forward-thinking brand like The Guardian triggers newspaper apps to take off, by providing premium unique content that's worth paying for, then this sector is going to get extremely exciting very quickly."
Exactly what The Guardian has up its digital sleeve waits to be seen, although Wing (pictured left) hints that more content specific digital applications, in a similar vein to Eyewitness, will form part of the strategy.

Having previously focused on Apple products, the FT's future seems to lie with Google's Android devices. Almost all of the 80 tablets launched in Las Vegas are Android and in just two years, it has gone from nothing to 30% penetration of the smartphone market.

Grimshaw says, "Over the next three to four months, we'll release our Honeycomb app (version 3.0 of Google's operating system developed specifically for tablets) and then after Christmas, we'll start to look at Windows 7.
"Tablet devices are revolutionary, but the most commonly used advertising servers need updating and a standard of measurement needs to be agreed.
"Once that happens, newspapers will be able to build their digital databases to print circulation scales and beyond, with the support of increased advertiser revenue and without the limitations of a distribution model.
"We don't know when this will happen or how big the tablet landscape could get but here at the FT, we'd like to get there quickly as possible."