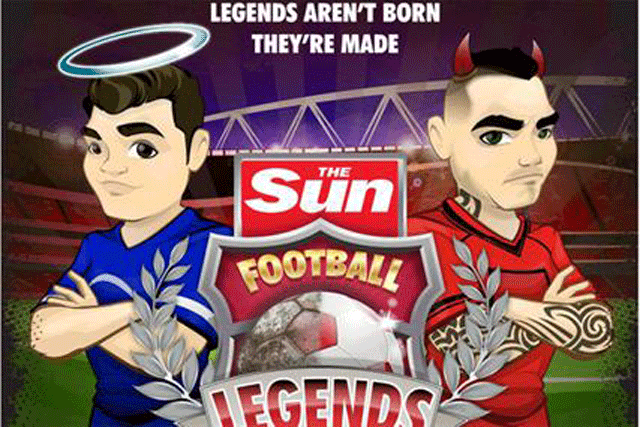 Ask any News International executive whether Rupert Murdoch's paywall strategy, implemented from June 2010, is still considered internally as an "experiment" and the response suggests that the company's digital development department is busier than Santa's workshop at this festive time of year.
Abba Newbery, News International's director of advertising strategy, says: "Experiment is the wrong term. We're on a journey and it's more complex than simply labelling our approach as a paywall.
"We're moving beyond the simple paywall model. Somebody had to be first to market with an approach to counter declining print circulations. Looking around, we see that every newspaper with an iPad app is now charging for the content. Would you say they've all gone with a paywall strategy?"
"It's great that we're all now involved in a like-minded journey and, as the forerunner, it's no surprise that the technology development division of News International is the fastest-growing area of our business."
Strictly speaking, the Financial Times was the original paywall pioneer, adopting a metered model in November 2007, which samples the paper's specialist content for free before imposing a charge. Its success is well documented, with an online base of 3.7 million registered users and upwards of 230,000 paid subscribers.
However, The Times and its stablemate The Sunday Times have had the wagons tightly circled for 18 months now, with no available article previews and none of their populist content indexed on search engines. Performance data and demographic information is a closely guarded secret to anyone not considered a targeted advertiser.
"What's more interesting for us is the ability to prove the effectiveness of targeted advertising to our loyal subscribers," says Newbery. "Being able to prove that our readers are fully engaged and responsive has helped our loyal advertiser base reach an equally loyal Times reader market."
News International recently reported a set of internal figures that indicated that in September, the number of digital subscribers to The Times was 111,036, compared with 101,036 in June and 79,000 in February.
The Sunday Times website also witnessed an uplift to 105,594 subscribers in September, compared with 97,004 in June and 75,133 in February, according to News International.
Repeat advertisers, according to the publisher, include Audi, Lexus, Carphone Warehouse, Travelex, Barclays, BT and IBM.
At the time, News International chief executive Tom Mockridge, said: "I'm very encouraged by these figures. In contrast to the industry trend of declining circulation, The Times and Sunday Times are showing that they can increase the audience paying for their digital journalism."
Although the online audience is growing and the platform is considered more premium than other general news sites, it does still seem to pale in significance, when compared with their forsaken 20 million digital readership and the online ABCs released in October for the remaining free-to-view newspaper websites worldwide.
Mail Online, guardian.co.uk and Telegraph.co.uk all posted new internet traffic records in October, as major stories such as the deaths of Gaddafi and Apple founder Steve Jobs dominated the headlines.
Mail Online, the UK's most popular newspaper website for the 13th month running, grew monthly users by 16.85% to 78,994,874. Daily traffic increased by 12.3% to 4,563,492 while, compared with October 2010, Mail Online has increased the number of users coming to its site by 57.83%.
The Mirror Group Digital network of websites, which includes mirror.co.uk and 3am.co.uk showed the largest growth in monthly browsers among national newspapers that report ABC web figures. Their figures rose 25.53% compared with September, to 15,796,147. Daily browsers grew by 17.22% month on-month to 710,695.
It's little wonder therefore that Chris Ellis, Trinity Mirror's managing director for digital is in no mood to set off on the same journey undertaken at News International.
He tells MediaWeek: "There are some opportunities for publishers to charge for specific content, but we certainly don't believe that throwing up a paywall around everything is the right strategy.
"We do think it's possible for publishers to charge for some unique, high-value content which is difficult for consumers to access elsewhere, but it won't be possible to successfully charge for general online news content on the open web when consumers can get the same thing for free from the likes of the BBC."
It appears arch rival The Sun agrees and could be the first News International title to fully bare the fruits of what Newbery terms, "the journey into alternative paid-for models".
A paywall for The Sun has been delayed twice during 2011 and when pushed, Newbery hints that it may now not happen at all.
She stresses: "We're moving beyond paywalls. We have had to be cleverer and we have to move quickly. We've added Sun Football Legends to our social gaming portfolio and we're looking at a variety of models to provide access to all of News International's content, through channels such as social media."
What this means for the Times and The Sunday Times remains to be seen, although analysts have predicted for some time that News International will have to revise its "Berlin Wall" approach in favour of a metered model or a similar lowering of the barricades.
For The Sun, it's the clearest indication yet that the News International-owned brand's gaming portfolio, which includes the football game, Sun Dream Team, and Sun Bingo, is where new revenues will be mined from.
Players of the Sun Football Legends game, launched on Facebook in November, create and manage football players, on and off the virtual pitch, taking part in a series of skills-based tests to boost their "legend" status.
Players can also make payments with PayPal to send virtual gifts to their friends, using the game app while, according to Rob Painter, marketing director at The Sun, the tabloid is seeing "strong interest" from clients looking to exploit in-game advertising and branded virtual goods.
Painter says: "Social gaming on Facebook represents a fantastic opportunity for The Sun to further engage a large community built around our key editorial pillar of football."
According to Enders media analyst, Benedict Evans, the problem for The Times and The Sunday Times is that without a scalable subscriber model, the brands just aren't able to drive sufficient revenues.
He says: "[To record] 111,036 subscribers of The Times isn't a poor performance and the journalists and headline writers no longer have to worry about using keywords for optimising search engines. They can write headlines as headlines again. However, the longer-term outlook just isn't sustainable.
"Financially, they're only taking a quarter of the revenues earned by other daily newspapers whilst sticking with their current subscription packages. With only a small advertiser base, how much could they shrink the online version and it sill be considered a premium product?
"Currently it remains a high-quality newspaper, but if they choose to stick with the current model, the only way to drive additional revenues and readership is through alternative content channels."
Neil Allen, Starcom MediaVest Group trading director, is also unconvinced that a premium environment for advertisers to target high-end subscribers pays dividends.
He says: "The issue has always been, 'can they monetise the model properly?', and the answer is still 'no'. Online newspapers will always look expensive to advertisers because they calculate return based on cost per thousand.
"The Times and Sunday Times may have a real understanding of who their readership is and I'm sure they've nurtured strong relationships with their advertiser base, but to grow the advertising, it just doesn't stack up.
"I'm sure Murdoch won't change his mind and alter direction on this, but no matter how much money they claim to be making, none of it is coming from our clients."
Eve Samuel-Camps, UM London head of press, is more optimistic. She says: "The luxury clients really like The Times and Sunday Times online environment because they're not having to chase numbers. They're getting quality data in a controlled space, so no doubt they're willing to pay a premium in order to better target a specific demographic.
"Consumers are growing more comfortable with paying for quality content and there has never been an issue with paying for apps on tablets. But News International need a greater number of assets to make it work financially. Then they can create bundles, which will better serve a wider advertiser base. Personally, I hope they find a way to make it work as this is a real opportunity to move digital newspapers and online content into the 21st century."
Newbery is aware of the challenges and remains convinced that News International has its eye firmly on the prize and is exploring every available route to get there.
She concludes: "The future heralds huge opportunities and we have the resources to explore and drive these opportunities. How will the market change with the introduction of web TV? W-iFi on Tubes or planes?
"It's unrealistic to expect anyone to get it right first time, but this is one complex journey that we're fully committed to."