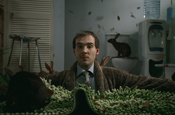 The mint-chocolate product, which will be one of four gel-filled variants added to the range, will be available by the end of next month. Lemon, mint and peppermint flavours are also planned, and the launch will be backed by a TV campaign that will communicate the products' rehydration properties.
The push is part of a new product development strategy by Cadbury intended to steal share from the chewing-gum market leader Wrigley.
At the end of last week Kellogg announced that it was launching a mint-chocolate variant of its Special K bar to attract consumers to the cereal bar category, which is dominated by fruit and nut products.
Trident Splash is currently being promoted with a TV campaign, created by JWT, that continues the brand's 'Mess with your head' theme. It shows a woman in an airport, whose mind takes her to a surreal imaginary world.