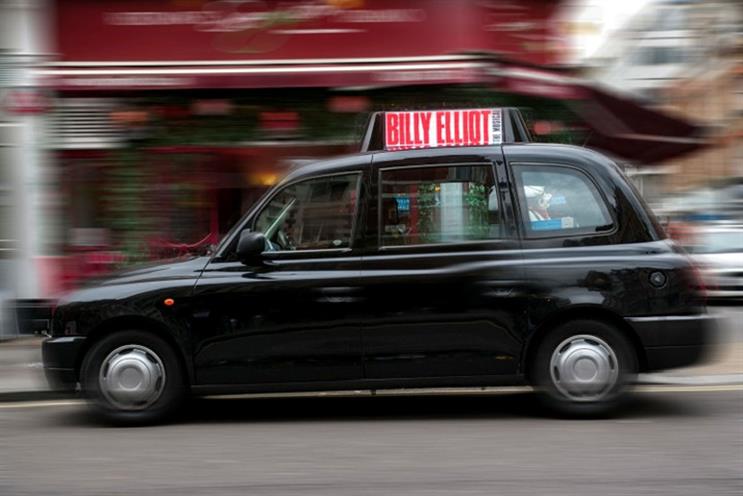 Sure to divide opinion, this new DOOH format has dared to mess with London's beloved, and 'iconic' black cabs.
The DOOH market has seen remarkable growth in recent years. More advertisers are now using DOOH formats than ever before, with campaigns becoming more creative and dynamic by the day. Much of this growth is attributable to a mass upgrade of traditional poster sites; the best and most prominent paper poster sites have been replaced with digital equivalents, and with it new ways of communicating with an audience.
There are physically a lot more digital sites these days, so of course there will be growth. But until now, has the DOOH industry really innovated and created something brand new?
Taxitops genuine innovation
Digital taxitop screens represent a genuine innovation and a major leap forward for the DOOH industry. Consider the technological challenge: create a digital screen that can withstand all weather conditions, vibration, glare and heat, and do all this whilst conforming to a multitude of safety regulations and with minimal impact on the vehicle's fuel efficiency. The journey from idea to prototype has been a long and arduous road for the two main players in the taxitop screen market: Eyetease and BrightMove Media.
The Eyetease iTaxitop screen
Whilst both companies have developed a similar product – a digital screen on the roof of a taxi – the technology used by each company is very different. The fundamental difference is that Eyetease have opted for an LCD screen, whilst BrightMove have chosen an LED screen*.
BrightMove's TaxiCast screen
As you might expect, the two giants of Taxi Media – Verifone and Ubiquitous – are involved too. Verifone have chosen to roll out the Eyetease screen, whilst Ubiquitous have formed a strategic partnership with BrightMove Media. The screens have started to carry their first test campaigns and have been introduced to many of the major media agencies.
Importantly from a media point of view, the digital taxitop screens offer a huge amount of different targeting capabilities, which will require a commercial innovation in the way media space is bought on the screens. Campaigns can be geo-targeted, meaning that if a cab goes through Piccadilly Circus, for example, then it could display a Coke ad, and then change to a McDonald's ad as the cab travels past one of its restaurants. To use a footballing term, it's a sort of 'zonal' media opportunity.
On a more basic level, the digital format also opens up taxi advertising to brands that might previously have chosen not to use the medium. These brands might include those with ever-changing price points, or those only wanting to appear for a day or two at a time. Traditional taxi media formats might have been prohibitive for some brands requiring a quick turnaround of message.
Love it, hate it
So, the opportunities are very exciting. London streets will certainly look very different, especially at night when the screens will light up the streets like a Christmas tree. Having spoken to many industry folk and friends about this new format, it becomes clear that this is going to be a Marmite proposition.
The problem, you see, is that many of us think of the black cab as iconic, and not to be messed with. Do the screens make a cab look ugly? Is it vulgar, or does it add something? I'll let you decide, but I'll leave you with one thought: when you think of a New York cab, do you visualise one with, or without the ad on the roof? This new format could become an icon in itself.
James Thornton is managing director of Hub Digital Newtworks