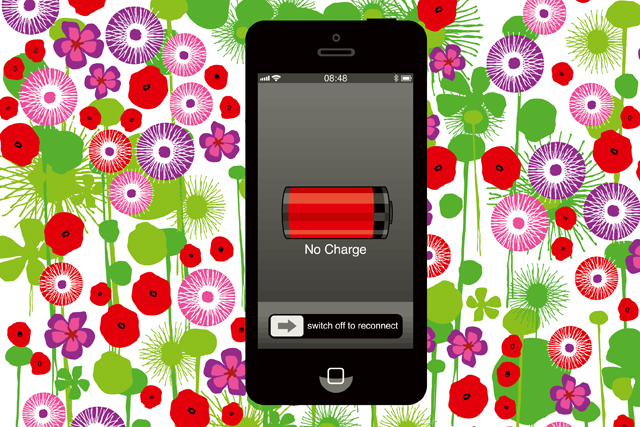 Information overload, big data, 'always on'; marketers are swamped with trends and terminology underlining the ever-increasing demands on our time. The pervasiveness of digital connectivity means more is more, not necessarily better. Marketers and consumers alike are dealing with an unprecedented wealth of information and data, with dramatic implications for communication and society.
In the face of this digital maelstrom, a growing tranche of data reveals that consumers are tiring of the 'always-on' culture that makes them increasingly reliant on their ever-present smartphone.
According to research from the Future Foundation, 44% of women and 32% of men like to be contactable on their mobile phones 'at all times'. Notably this mobile dependency has decreased from 2008, when 60% of women and 54% of men liked to be always available.
Mark Comerford, co-founder of digital training organisation Hyper Island, says that when the dominant structures of the world change there is always a reactionary movement. The shift from the analogue to the digitally networked world is a fundamental reorganisation of the social and cultural norms.
'In the next 10 to 15 years we will set the parameter for how the world will look in the next 100 years. Now is the time to engage. People who choose to disconnect either feel threatened [by this change] or feel they can afford to take a step back to alleviate their personal anxiety,' he explains.
While many consumers find the unprecedented volume of choice and an increasing range of communication channels empowering, others are just overwhelmed. Coupled with the emotional fallout of the recession, the consequences of this information overload and consumers' subsequent flight to simplicity is a key trend for brands.
Russ Lidstone, chief executive of ad agency Havas Worldwide London, says that with the economy facing a 'great stagnation', British consumers are reassessing what's important to them and how they spend their money. 'This means they are more likely to aspire to simplicity, transparency and honesty, so these traditional values become more compelling. But the bottom line for the consumer is, "What's in it for me?"' he explains.
The return of simple pleasures: 'No noise'
The flight to simplicity is a well-established consumer reaction to periods of social and economic flux. Carrie Hindmarsh, chief executive of ad agency M&C Saatchi, says that for the past few years consumers have been bombarded with a crescendo of links, ringtones and friend requests. 'When faced with this "always-on", screen-based culture, there comes a time when people want to reconnect with the world around them.'
Jonathan Trimble, chief executive of creative agency 18 Feet & Rising, believes this shift has benefited organisations such as the National Trust. However, the fear that young people are increasingly out of touch with the real world and suffering from a 'nature deficit disorder' remains a niche trend. 'Only a small percentage of consumers have the guts for "Facebook suicide"; for the most part, we see families with the mum upstairs and the daughter downstairs messaging each other on Facebook,' he explains.
Nonetheless, several brands are already tapping into this 'simple pleasures' trend. Department store Selfridges, for example, launched its 'No noise' campaign in January, debranding well-known products (right) and paying homage to minimalist design with a 'quiet shop' designed to give consumers respite in a world full of commercial clutter.
Jim Whyte, senior insights analyst at design consultancy Fitch, believes that embracing the concept of providing downtime is key to capitalising on this desire for simplicity. 'This sense of being overwhelmed is a symptom of the multiple messages, choices and responsibilities that people face today,' he says. 'For many brands a focus on simplicity is key to differentiating themselves from this noise.'
Yet many of the UK's biggest brands are simply compounding the noise and pressures already facing consumers. Tesco shoppers, for example, may recently have added to their 'emotional shopping list' concerns about whether or not they have inadvertently eaten horsemeat.
Generation Unsubscribe: the end of inefficiency
As the poet Robert Frost wrote: 'The brain is a wonderful organ; it starts working the moment you get up in the morning and does not stop until you get into the office.'
In their rush to embrace new technology, marketers must think carefully as to whether they are merely eating into consumers' precious downtime.
The assumption that the growing range of communication platforms has made either marketers or consumers more efficient is fundamentally flawed. The fact that our extensive range of technological devices make us more connected does not mean we are automatically plugged-in to the things that matter most.
Judy Mitchem, managing director and group chief marketing officer at Ogilvy Group, says that the plethora of communication channels means that a wealth of consumers are choosing to unsubscribe. 'Many brands send too many messages; they need to define themselves as much by what they don't say,' she adds. 'At a time when so many consumers are overwhelmed by information, brands need to be really careful when it comes to communication.'
To tackle this barrage of information, a growing number of people are filtering out commercial messages - a trend that is likely only to intensify.
Whether consumers are embracing on-demand content or using the proliferation of online aggregators to buy anything from a pair of shoes to insurance, marketers must beware of being bypassed as they seek to simplify their path to purchase.
Jason Mander, head of insight at consumer and business trends think tank Future Foundation, says that there is a tendency for people to take more control of their lives in a trend he identifies as the 'end of inefficiency'. 'They want the best deal and are happy to rely on algorithms and aggregators to deliver that,' he says. 'The key is that the consumer has autonomy.'
Life edited: navigating the tyranny of choice
Choosing what to have for lunch at Soho's latest eatery, Flat Iron Steak, isn't difficult: you can have a steak, a steak or a steak. Flat Iron is one of a growing number of restaurants and brands offering little to no choice and instead focusing on providing a limited range of products or services to high specifications.
In The Paradox of Choice, US psychologist Barry Schwartz writes that 'a large array of options may diminish the attractiveness of what people actually choose, the reason being that thinking about the attractions of some of the unchosen options detracts from the pleasure derived from the chosen one'.
In boom times, many brands have been guilty of over-extending into multiple categories in search of a quick profit. However, simplicity-hungry shoppers are increasingly looking to brands that are trusted experts in a single sector.
Fitch's Whyte explains that doing one thing really well is key to building trust. 'In the past, we have seen brands focus on what else they can expand into, but today it is about developing a clear brand architecture that allows consumers to make a simple choice,' he adds.
Dean Ashraf, director of Truth Central UK, part of ad agency McCann's global thought-leadership unit, says brands must recognise the finite nature of attention. 'Many brands risk being the jack of all trades and master of none,' he warns. 'Marketers must have the gravitas to edit or risk being overlooked.'
Those becoming overwhelmed by choice are turning to brands they rely on to act as editor. Nowhere is this trend more evident that the fashion market, where online retailers such as Net-a-Porter and Mywardrobe.com have embraced editorial tools to present a precis of the new season's key looks. Contrast this approach with trawling the high street or the myriad products on various websites and the benefit, and appeal, to shoppers is clear.
The trend has also been adopted in the travel market, where holidaymakers suffering from 'TripAdvisor anxiety' are turning to trusted brands to simplify the booking process. From upmarket specialist Mr & Mrs Smith editing the very best of boutique travel to mass-market travel operator First Choice offering only all-inclusive holidays, a host of brands are embracing the role of editor.
'Consumer expectations have changed, but the capacity of the brain to hold information has remained the same,' explains Ben Bilboul, chief executive of ad agency Karmarama. 'What we are dealing with now is more information, but our brain power hasn't advanced alongside this. We are very close to reaching capacity - the brands that help to curate and manage that information overload will thrive.'
Slow technology: Generation Expectation
Arianna Huffington, author and founder of news site The Huffington Post, recently declared that the need to reconnect with ourselves by disconnecting from our devices is no trivial matter in a world where we are in desperate need of creative solutions to our various 'crises'.
She explained: 'A world of too much data, too many choices, too many possibilities and too little time is forcing us to decide what we value.'
In an attempt to refocus on what is important to them in a seemingly uncertain world, consumers are attempting to exert a tighter grip on all aspects of their lives, including technology.
'We've seen a lot of evidence that consumers are redrawing the boundaries in their lives when it comes to technology,' confirms Sally O'Rourke, managing director, Europe, at insight specialist Promise Communispace.
She believes this has serious implications for marketers. 'Brands are facing a choice: they can either go the big data route and collect data in a bid to understand their consumer, or they can be human and attempt to understand their customers' true emotions,' she says. 'Smart brands know that to truly connect with consumers, they need to prove they are listening to them and really hearing what they say.'
Slow technology, like the slow-food movement before it, is not simply about consumers reacting against the networked world. They are embracing technology, but expect it on their own terms. On a personal level, marketers - many of whom are at the sharp end of information overload - have already rejected the parameters of the 'always-on' world.
Daniele Fiandaca, head of innovation at ad agency Cheil UK, says the concept of 'digital detox' is gaining credence as 'digital immigrants' struggle to cope with the growing number of messages to which they are exposed. 'In many ways it is no different to an alcohol detox, in that it enables you to recognise the negative impact of your own behaviour,' he explains. 'Technology has done a lot of positive things, but at the same time it can be very overpowering.'
While many of us thrive on the intensity of demanding lives, believing that our devices require all our attention means that is exactly what we give them. Being constantly connected equates to a growing disconnection from the world around us; and that is turning marketing on its head.
Nicola Kemp is head of features at Marketing you can follow her on Twitter: @nickykc