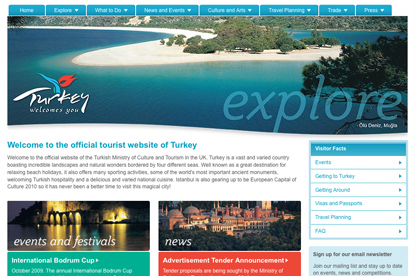 At present, advertising is created in Turkey and placed in the UK by the London-based media and creative agency Bygraves Bushell Valladares & Sheldon.
The Turkish Tourism Office is now looking for a UK-based agency to handle creative duties in this country. Bygraves Bushell Valladares & Sheldon will continue to handle media.
The process is in its early stages and a longlist of agencies has yet to be drawn up.
The winning agency will be briefed to create a press and digital campaign, which may also include TV work, depending on budgets. The campaign will be designed to build on the growing number of tourists who visit Turkey from the UK every year.
According to the Turkish-British Chamber of Commerce and Industry, more than 2.2 million people from the UK visited in 2008, up from 1.9 million in 2007.
Early figures suggest that this number will have increased by a further 30 per cent by the end of 2009.