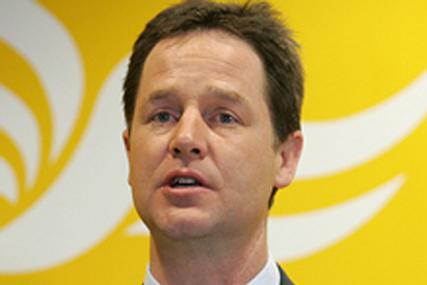 Instant polls by YouGov, ITN, ITV and Sky all placed the Lib Dems' leader's performance ahead of Conservative leader David Cameron and Prime Minister Gordon Brown.
The ITN poll of 1,000 people gave Clegg 43%, ahead of Cameron with 26% support, and the Prime Minister with 20%. The remaining 11% of those polled thought none of the leaders shone through as overall winner.

These results were echoed by another poll of 4,032 voters, by ComRes for ITV News.
YouGov's instant debate reactions put Clegg on 51%, Cameron on 29% and Brown trailing well behind on 19%.
However, Sky News and FizzBack, who surveyed a panel of more than 10,000 people by text message, showed Clegg won 37% of the vote, with Brown clawing back at 32% and Cameron 31%.
Advertisers The Daily Mail, Wickes and Confused.com all managed to secure the first three 30 second advertising slots after the 90-minute non-stop debate on ITV, which drew almost 10 million viewers, according to unofficial overnights, a huge number for a politcal programme but well short of some predictions that the audience could be double that amount.
Micro-blogging site Twitter experienced a huge surge in usage as more than 30 tweets per second about the debate were recorded by some analytics firms.
ITV and Facebook also struggled to cope with demand as their election special websites creaked under demand for their real-time 'dial-o-meter' polling.
Cameron was instantly the most beaten man of the night, according to a separate poll, led by ad agency Albion.

The agency's "slapometer" campaign, which allows the public to log on to a microsite and choose which leader they feel deserves a slap, revealed Cameron received 1,381,044 slaps during the course of the 90 minutes.

Out of the 20,000 people who visited the site during the debate, Brown received 1,070,956 slaps and Clegg only received a small beating with 318,583 slaps.
However, Cameron managed to turn around opinion overnight. Out of the 22 million slaps received by this morning, Brown received 47% of them, followed by Cameron with 39% and Clegg with only 14%.
Figures taken by UK Online Measurement Company (UKOM) showed the Conservative website was the most popular political site in the UK last month.

The site attracted 150,000 visitors, while the Lib Dems's site overtook Labour for the first time since last summer, attracting 115,000 visitors compared to Labour's 114,000 audience figures.
The Conservatives had the greatest proportion of female visitors to their site, with 44%, compared to Labour's 43% and the Liberals' 31%.

The site also appears more evenly spread across the social classes than the other parties as 58% of Conservative site visitors are ABC1, compared to Labour's 71% and 75% for the Lib Dems.