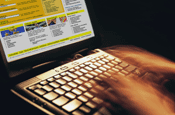 Thinkbox and the Internet Advertising Bureau carried out research which showed that combining the two led to an increased positive brand perception of around 50 per cent.
The survey focused on medium to heavy users of digital TV broadband internet.
Tess Alps, chief executive of Thinkbox, said: "Online usage is not displacing TV viewing and it is time to celebrate the complementarity of these two most powerful digital media."
The research also showed:
The likelihood of buying or using a product increases by more than 50% when TV and online are used together;
48% of the sample group watched broadcast TV while online, most days;
Two thirds of this group have watched TV via online providers;
Both TV and the internet are used for entertainment (TV, 80%; online 56%) and both have a significant influence on driving purchase (75% and 52%)