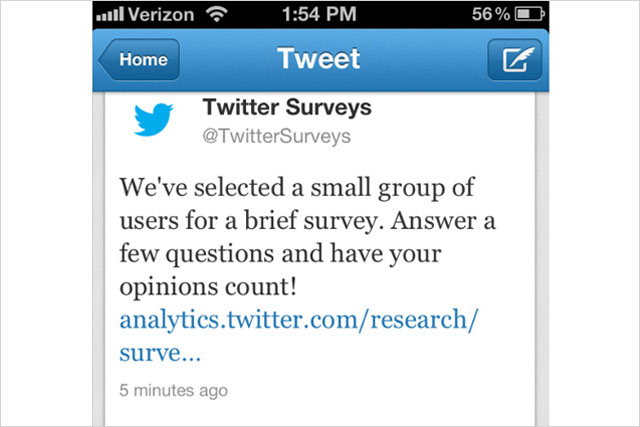 Twitter Survey pops up within a user's timeline, much as a Promoted Tweet would, and asks users to fill in a series of questions if they click through.
It will appear on both desktop and mobile devices. Twitter has partnered with the research agency Nielsen to launch the tool.
The tool is free to Twitter advertising partners who have spent above a minimum amount. A spokeswoman would not reveal what the minimum spend was.
Twitter is currently testing Twitter Survey with a small set of advertisers in the US after which it will be made available to a wider group at the start of 2013.
The social media company announced details of the tool on a blog post, saying "it will give brands better insights to determine purchase intent, overall awareness, and other advertising metrics and analytics that can lead to greater engagement on Twitter."
The launch of Twitter Survey marks the latest in a number of changes Twitter has made to the site and its ad products in recent months. These include geo-targeted ads and interest-based ads.
Follow @shearmans