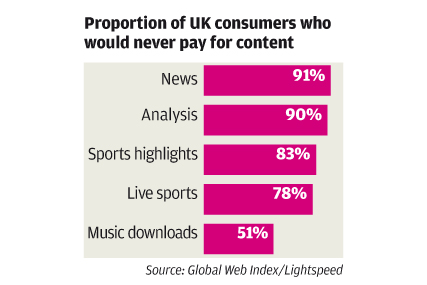 A study of 2,000 UK consumers by Lightspeed Research commissioned for digital research outfit The Global Web Index, challenges Rupert Murdoch's decision to charge users to access the websites of The Sun, The Times and Sky News.

It found that 91% of UK consumers would be unwilling to pay for news online and 90% would be unwilling to pay for news analysis. Of those aged 16 to 24, 86% would never pay for news online, while in the 45 to 54 age sectors, 96% said they would not pay.

In addition, only 5% of UK consumers would be happy to pay for each piece of news content online, while just 4% would be happy to take out a subscription for online news content.

Music download services appear the most acceptable paid-for online media, the survey found, with 49% willing to pay for music downloads online, while 43% of consumers surveyed would pay for online TV content downloads.